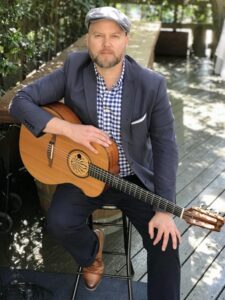 John E. is a versatile musician who blends a multitude of styles into his own sound. He is a former Cirque Du Soleil guitarist and Warner Music recording artist.
As a professional session guitarist, John has recorded in studios throughout Atlanta, Nashville, New York and Los Angeles.
He has performed as a touring sideman with a multitude of artists including Corrinne May, Carissa Vales, Billy Ray Cyrus, Mark Shultz, CBS Studios, Allen Levi and many others.
As a solo performer,  John has shared the bill with an array of notable artists across the globe including the legendary Chet Atkins.
Born and raised in Atlanta Georgia, John began learning the guitar at the age of 10 by his father who was also an accomplished guitarist. He later went on to study at various music schools including the Berklee College of Music in Boston MA.
​John's guitar specialties include acoustic steel string, nylon string and electric guitars.
TESTIMONIALS
Everything went very smoothly at both events, and John performed wonderfully in both settings. He was easy to work with and even sent samples of the works he would perform to us for review beforehand. We really couldn't have been more pleased. He honored every part of our contract and many of our guests were extremely impressed with his guitar skills, asking for his contact information after the events. Give him a call and check out what he has to offer. You won't be disappointed."
(James. M – New York NY)
---
"John is extremely talented, but more importantly, his music just made everyone in the room feel great…."
(Joy H. – Mission Viejo CA)
​
---
"The music sounded amazing, we were so lucky you were able to play for us. Thank you, again!"
(Dani S. – Laguna Beach CA)
---
"John was fantastic. He posted music samples for us to help us be very clear about what we wanted and what he could bring to our special day. He was on time and did a wonderful job. We would definitely recommend him!"
(Deb C. – Franklin TN)
---
"It was a pleasure to meet you and your music added such a special touch…"
(Katie M.- New Orleans LA)
---
"You really did such a great job! I am so honored to meet such a passionate musician as yourself!"
(Lena M.- Los Angeles CA)
---
"There's nothing like a live musician to class up a joint. John provides the perfect ambiance. He plays beautifully and takes requests.
If a song isn't in his current repertoire – don't sweat it, he'll learn it in a matter of days – nay, hours. John was prompt, professional, and responded to emails in a timely manner."
(Arisa K. – Los Angeles CA)
---
"John! Thank you so much!!!! Your music was ABSOLUTELY perfect! You helped make the event far better than I ever could have imagined!"
(Nicole B. – Dana Point CA)
---
"Beginning from our initial contact, he was so kind and encouraging to work with- even going the extra mile…"
(Christy R. – San Diego CA)
---
"John was AMAZING!!! He is an EXCELLENT guitar player and BONUS, his guitar is really cool looking, so it makes for great pictures. His prices are definitely reasonable. I would highly recommend the company to anyone in the future."
(Jammie B. – Bakersfield CA)
---
"Thank you for the beautiful music.  I overheard your music during the event and it sounded great.  I didn't tell you but I was a piano major in college so the music selection was very important to me.  Thanks for helping to contribute to the beautiful day."
(Teresa C. – Los Angeles CA)
---
"John is as good as it gets – he played his collection of songs beautifully and did exactly as we'd requested. On top of that – he worked up renditions of several songs that I'd asked for – without any problem and performed them in a way that made them sound better than the originals. Just the best! The number of folks who commented on your exquisite guitar playing was…..everyone there! I really appreciated you playing the version of Kiss a Girl along with each of the other pieces!  Just awesome. So great!"
(Bill K. – Palos Verdes CA)