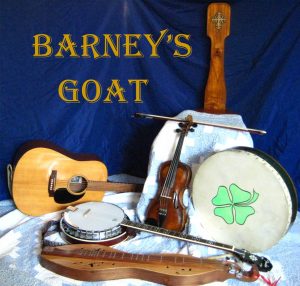 Borrowing their eccentric name from an Irish folk tune, the members of the Atlanta-based folk ensemble Barney's Goat value a healthy dose of blarney within an evening of music. Whether performing the Irish and Scottish songs that are their specialty, their unusual repertoire of American material, or both, these spirited entertainers love nothing more than to spin a good yarn through song. Moving effortlessly from ribald pub songs to poetic and tragic ballads, they sprinkle in wry humor and running commentary to keep their audience on an emotional rollercoaster.
Barney's Goat is best known for performing Celtic music – that is to say, the traditional music primarily of Scotland, Ireland and Wales. Unlike most other local Celtic groups, they do mostly songs, with some instrumentals in the mix. They play a wide array of instruments: six-string and 12-string guitar, fiddle, banjo, mandolin, pennywhistle, recorder, electronic keyboard, mountain dulcimer, bass, and bodhran (Celtic drum).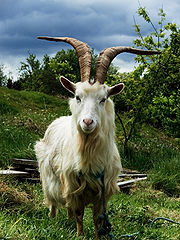 Since forming in 1992, Barney's Goat has gained a strong local following from frequent appearances at coffeehouses, folk festivals, other cultural events, retirement homes, and private parties. Their 2009 CD is (imaginatively titled) Barney's Goat. The group consists of Chris and Carol Moser, and Phil Matteson.


CHRIS MOSER 
Chris Moser is a native of Knoxville, Tennessee. He has degrees from the University of Tennessee and Louisiana State University. He has pursued a diverse career in mass media – most notably in public television and radio, but also with WSB Radio, other radio stations, the Atlanta Journal-Constitution, and CNN. Chris has been performing folk music since college in the 1960s. A Kirkpatrick on his mother's side, he is keenly interested in his Scotch-Irish heritage, and in the early 1980s he began studying and performing Celtic music. He sings and plays guitar, whistles, bodhran, and a bit of mandolin. Chris is president of Atlanta Area Friends of Folk Music and was for several years vice president and entertainment coordinator for the Atlanta Celtic Festival. He and his wife Carol, a fellow band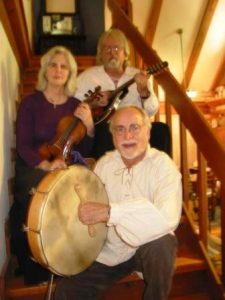 member, live in a cozy log home in the woods on the edge of Davidson-Arabia Mountain Park in Lithonia.
CAROL MOSER
Carol Moser is a native Atlantan. With a lifelong strong interest in music, particularly Celtic and the overlapping Appalachian and Old Time, Carol began playing music at the age of six (piano) and began teaching herself guitar at the age of nine. She later learned to play flute, whistle, recorder, bodhran, fiddle, and mountain dulcimer, and she dabbles in a few others. Among other musical groups of which Carol has been a member, she was the daughter of the mother/daughter duo Southern Lace, who performed for six years on the Civil War reenactment circuit and recorded four albums of 1800s-era tunes and songs. Delighted to be in a Celtic music band with husband Chris as well as with Phil, Carol continues to indulge and expand on her musical interests.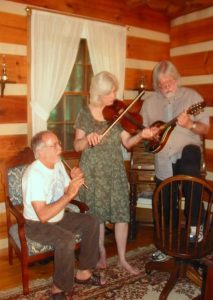 PHIL MATTESON
Phil Matteson was born in Fort Worth, Texas, and grew up in the Los Angeles area. Since Phil was the age of 11, his family moved to several distant states but finally settled in the Atlanta area in 1971. He met Chris Moser in the early 1980s, and together they formed a folk duo playing some Celtic and some American music, including a lot of Jimmy Buffett songs. In the early 90s they decided to play all Celtic music and formed Barney's Goat. The band's personnel have changed several times over the years, "but we're very pleased with this current lineup," he says. His musical influences include the Clancy Brothers, Eric Bogle, Steeleye Span, the Beatles, 1960's rock-n-roll, country music, and – oh, yeah – Jimmy Buffett. Phil plays guitar, electric bass, and mandolin. When not performing with the band, he teaches third grade in Gwinnett County Public Schools at Lilburn Elementary.