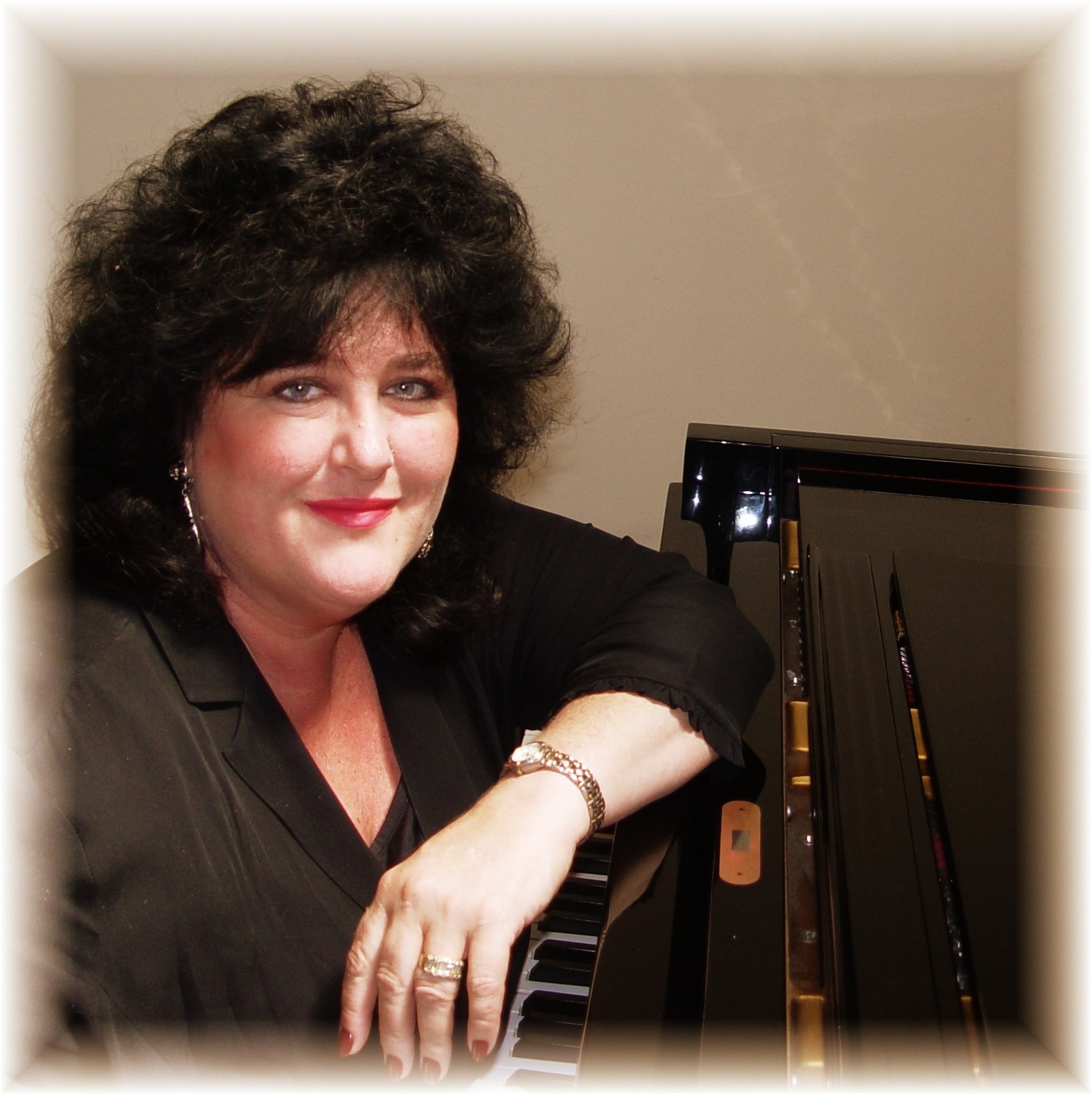 Pianist and Vocals
Jeni Michelson has been performing, singing and playing piano throughout the Atlanta area in the top restaurants and clubs for over 33 years.  She is an internationally published songwriter who has also written numerous award winning advertising jingles for radio and television.  Jeni wrote and recorded title theme songs for three indie movies, the comedy horror, "The Vampire Who Couldn't Bite", 2003 , "Expressions", 2011 and "Dark Heart", 2012 which explore complex issues such as childhood bullying and Goth teens. Expressions premiered at the Cannes Film Festival, May 2011, and then Dark Heart premiered at Cannes May 2012.  Jeni 's newest title song for the movie, "Unshakeable" The true story about a spiritual group from Virginia who get caught in the cross fire of the Mumbai killings is expected to be released over the summer 2014.
Jeni has played for President Jimmy Carter and Governors' Zell Miller, Roy Barnes and Sonny Perdue. She has performed for many fund-raising events  for notable Atlantan's ~ Mayor Shirley Franklin, Ambassador Andrew Young, Senator's Saxby Chambliss, Sam Nunn and Mary Margaret Olive.  Jeni has also performed for many prestigious organizations and events such as Cystic Fibrosis, American Cancer Society, St. Joseph's Hospital, The Atlanta Opera Guild, The Atlanta Symphony, The International Consulars Ball 7 years in a row (where she sang in 10 languages). Jeni Michelson's band, Society Express also played for the Grand Re-Opening of the High Museum and the Grand Opening of the Cobb Energy Performing Arts Center and most recently for the Atlanta Jewish Film Festival Opening night at Cobb Energy Performing Arts Center 2013, the Smithgall Performing Arts Jazz Series, the Appleby Augusta Jazz series and KSU Jazz series.
Growing up in a family full of professional musicians, Jeni started on piano at the age of three. She sings and plays completely by ear and does not read a note of music. Jeni mesmerizes audiences with her engaging vocals and she is well known throughout Atlanta as having, "the voice of an angel".  With elegant finesse or bossy belting, Jeni expresses emotions full circle.  You can expect to hear shades of Patsy Cline, Diana Krall, Stevie Nicks, Karen Carpenter, Sara McLachlan, Bonnie Raitt, Carole King, Linda Rondstadt, and Nora Jones as this dynamic entertainer plays every style of music from jazz, blues, pop standards to Motown, R&B and classic rock n' roll.  With a strong repertoire of over 2500 songs, Jeni also has a passion for show tunes, Dixieland, country and Latin music styles and she sings in as many as 10 languages.
Jeni has played for many interesting projects such as a Georgia Tech project where she musically interpreted the body language of whales and fish at the Georgia Aquarium in a study to make the Aquarium more accessible to the visually impaired.  She also provided all the sound effects for a series of live "old time radio shows" produced by Lend An Ear Theatre Company.
During the weekdays, Jeni provides a wide variety of creative musical programs for over 40 retirement communities including playing ballroom dance music for independent living residents and interactive therapy for memory care patients.  While she performs frequently as a solo piano/vocal act, she also leads her 4-8 piece variety dance band, The Society Express Band, which plays for many social galas & weddings.  Society Express received the honor of being voted one of the Hottest 150 bands in the USA by Modern Bride Magazine 2009, 2010 and 2011 and Wedding Wire's Brides Choice Award in 2012.
OUR LOVE IS HERE TO STAY VIDEO
SOMEDAY SOON

SOUND SAMPLES