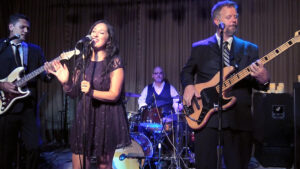 The Treble Maker is one of Atlanta and Athens premiere party bands! Perfect for weddings, private parties, family functions, and corporate events, the local based band The Treble Makers is exactly what your next event needs. Our Private Event Band offers a set list that covers all the greatest hits you and your guests will love. From a formal 2 piece acoustic performance, to a full horn section concert, The Treble Makers are here to give our clients memories that last a lifetime! Contact us to learn about our musical repertoire and sensible prices, and check out our testimonials to learn what clients have thought about our past performances…


Testimonials:
The band was fantastic. I've been to a lot of weddings and it was the first where the dance floor was packed the entire night with three generations of family. I would definitely recommend this band!
Chris Weissman, Father of the Bride, White Oak Barn, Dahlonega Georgia, September 12, 2020
——————————————————————————————————
Hey Rich! The wedding was fantastic. Send any and all evaluation forms and ways to review the Treble Makers our way. They were AMAZING. Not just performers but just awesome people. We are their biggest fans.                                                                                    Thank you! Jake and Sydney Fulwiler 9/12/2020 White Oak Barn
—————————————————————————————————-
Dustin and his band, plus Clay on sound, were truly exceptional musicians. Loved Adriana on vocals. After a tentative start getting dancers on the floor, too many chatting ! But Hey; they were Irish! Once on the floor everyone genuinely enjoyed the music and filled the floor to overflowing. Loved The Treble Makers!
————————————————————————————————-
Bob O'Neill, Hibernian Benevolent Society of Atlanta,  Dinner /Dance,  Druid Hills Golf Club, March 7, 2020
————————————————————————————————-
The Treble Makers Band pleased every age group from 30 something gs to 70 somethings! everyone,danced and sang along to Timeless music artfully executed! They were friendly ,entertaining and professional Hurry and book them!!!
— Phyllis Spaulding
————————————————————————————————–
I recently got engaged and have been searching for a wedding band. I came across their Instagram page and decided to reach out. From the beginning Dustin has been so great about working with us to find a good time to come check them out since we live in atlanta. We saw the band perform last night and we were blown away! Every band member is unbelievably talented. They even learned a song I requested for my father/daughter dance on short notice. We met the band before the show and everyone was so nice and accommodating. So excited to book these guys for my wedding!
— Nan Bowden
————————————————————————————————-
What an incredible experience we had with the Treble Makers as our wedding band… They are exactly what you want in a band for events, parties or weddings! If you are trying to find the best event band in the southeast, look no further. This is the one, trust me! Communication with Dustin was a breeze, and they have a huge variety of great music in their song list. Dustin and the rest of the band went out of their way to answer questions and take personal requests to provide the best experience possible. The day-of, everything went very smoothly with no hiccups. And the music… ? what a treat to have such talented musicians who seem to be masters of any genre you can throw at them. They sounded AMAZING and had such great positive energy that got everyone up and dancing the whole time! Holly's vocals are out of this world, and the band puts their own subtle twist of style into the music that just makes it that much more special. Not to mention, they made us feel very special on our special day, and provided the PERFECT environment during our first few minutes of marriage. ? I honestly cannot recommend this band enough!
— Sarah Scuduto