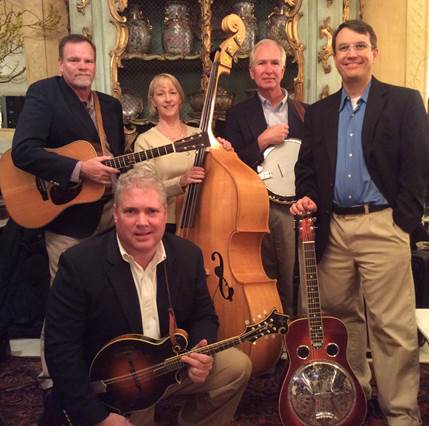 Peachtree Station is one of the most exciting bluegrass bands in Georgia. The band performs regularly at The RedLight Cafe in Atlanta,well as regional festivals. Peachtree Station has opened for such notable acts as Rhonda Vincent, Blue Highway, The Sam Bush Band, Lonesome River Band, The John Cowan Band, Claire Lynch and The Front Porch String Band and has been the featured band in numerous concert venues. Peachtree Station is a band whose music offers traditional and contemporary bluegrass with influences of newgrass, folk and rock. While the band's foundation is in traditional bluegrass, you are just as likely to hear progressive music from this talented group of musicians. All are veterans, each having over 20 years of performing experience, and together they are a very solid bluegrass band with exciting instrumentation, great vocals and tight harmonies.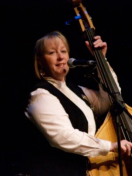 Melody Armstrong (bass, vocals) Melody comes from a musical family (hence her name) and has enjoyed singing all of her life. Her bluegrass career began in Augusta, GA, with the group Flatbed, whose popularity allowed her to play many of the bigger festivals in the Southeast. She has also been a featured performer at Stone Mountain Park's 1870′s town, Crossroads. Melody currently lives in Snellville, GA. Melody anchors the band with her solid bass playing and strong lead and harmony vocals.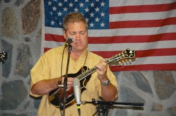 Tom Mendenhall (mandolin & vocals) Tom is also from North Carolina and has been playing guitar and mandolin since he was 13 years old. Growing up he played in many bluegrass bands around Central North Carolina with his twin brother Tim. Tom brings influences of both traditional bluegrass and newgrass to Peachtree Station. He feels equally at home on mandolin and guitar and contributes to the band on both instruments as the situation requires. Tom also sings lead and rounds out the harmony with tenor and baritone singing. Tom currently plays a Randy Wood Mandolin.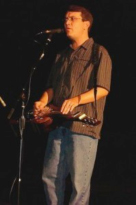 Steve Schaaf (dobro & vocals) Steve joined the band in January 2008 and brings many years of experience performing bluegrass, most recently with the Atlanta-area group, Coal Mountain. In addition to dobro, Steve plays a number of other instruments. Prior to moving to Atlanta in 1999, Steve played mandolin with bluegrass bands in New England and in his native California. Steve also enjoys playing fiddle and has performed on that instrument for Morris dance and other folk dance groups.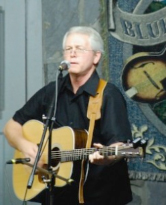 Jeff Partridge (guitar & vocals) Jeff brings 30 years of bluegrass experience to the group playing banjo,mandolin,guitar and lead and harmony vocals. Through the years, Jeff has played with the groups Bullsboro, Brushfire and Counterpoint and most recently played Mandolin in the Group Overdrive. Jeff plays a Collings D1 guitar.
Eddie Hoyle(banjo)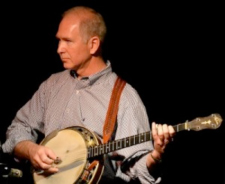 Influenced by everything from the traditional style of Scruggs and the mountain sound of the Stanley Brothers to the more progressive style of Jimmy Arnold and Bela Fleck, Eddie Hoyle has been a mainstay banjoist on the bluegrass music scene since the 70's! Featured as a young teen-aged banjoist, playing alongside Earl Scruggs in the historic and renowned bluegrass music documentary, "Bluegrass, Country Soul," Eddie has played with many professional bands over the years.
Eddie grew up with a musical heritage, surrounded by his family who played and sang. Early on, he formed a band with his brother, Al and sister, Lisa, who now travel and perform with The Little Roy Lewis and Lizzie Long Show. When performing as a family band, as they still do on occasion, The Hoyles blend together their rich acoustic instruments as they reach a tight family harmony scarcely achieved by any means other than years of growing up playing and singing together.
Eddie is a two-time Fiddler's Grove Banjo Champion. Currently, he divides his time playing with The Curtis Blackwell Band, The Shoal Creek Band, the progressive bluegrass band, Avalanche, and the ever versatile Smith and Flowers. Whoever Eddie is playing with, he always brings beautiful, precise melody, and solid, hard-driving energy to the band's sound!
SOUND SAMPLES