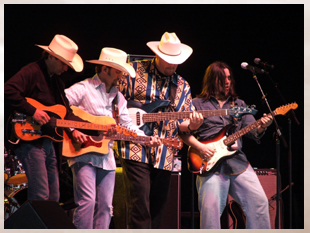 Mike and The Band is a result of six multi-talented musicians that were brought together while developing an ideal backing band for an independent recording artist. Mike and The Band's live show is versatile enough to accommodate any event format. From clubs to festivals, Mike & The Band is your best choice in entertainment. Along with headlining major events, they also have shared the stage with many of the top names in country music.
Notable Performances:
October 2001 – headlines Clear Channel Radio's 911-benefit concert.
March 2002 – Opens for Brad Paisley at Wild Adventures Theme Park in Valdosta, GA.
June 2002 – 31st annual Fan Fair in Nashville, Tennessee.
June 2002 – Headlines benefit concert for the Children's Miracle Network in Albany, Georgia.
February 2003 – MTB shares the stage with living legend George Jones.
September 2003 – Band shares the stage with the Kentucky Headhunters.