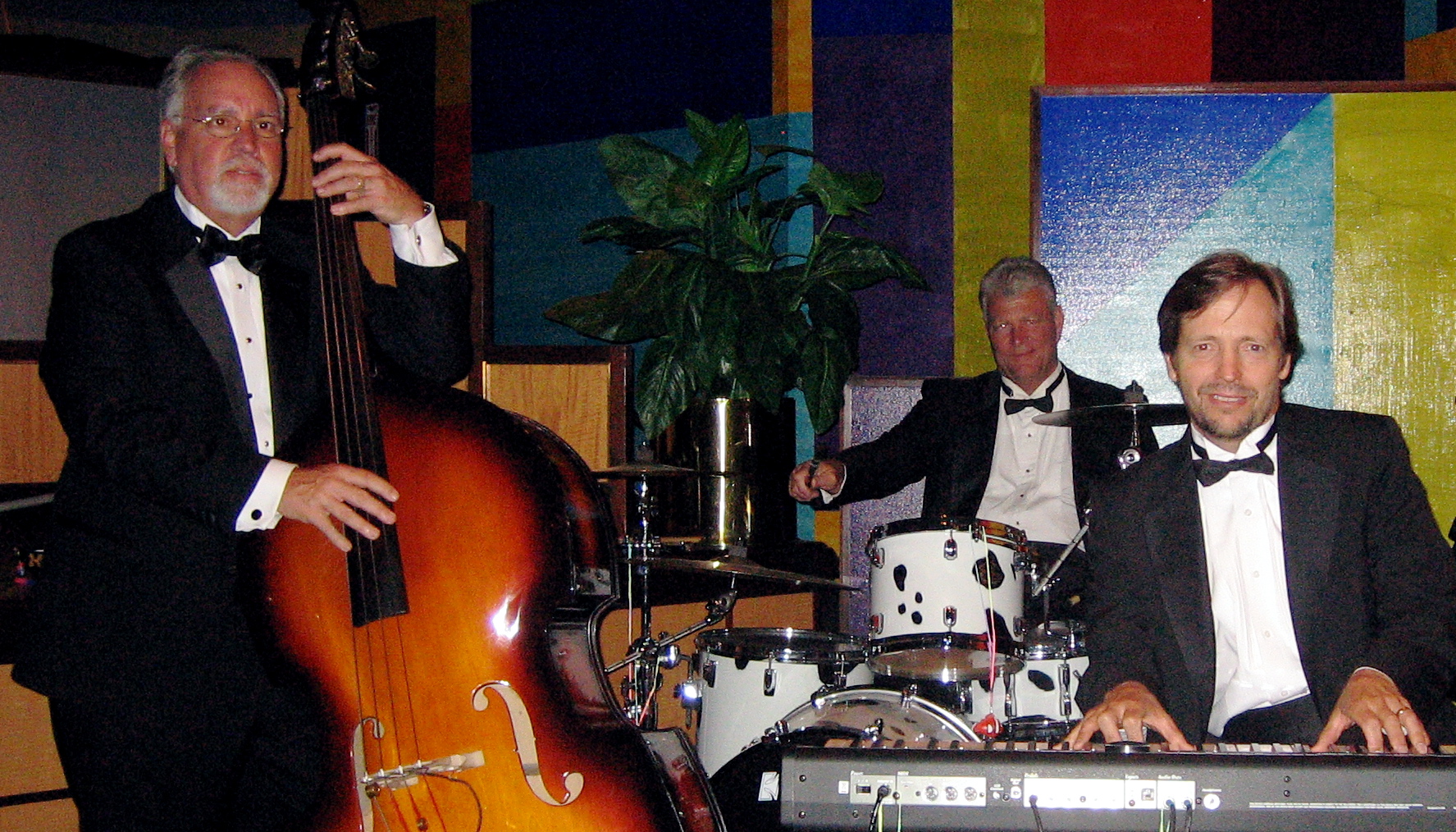 Scott Schumann Trio – Keyboards Bass and Drums
Admiring the care and design that went into every detail of the banquet hall you take a sip of wine while you mingle with the VIP's. The band begins the first song of the evening.
A short intro, a deep breath and "Look at me, I'm as helpless as a kitten up a tree" is what emanates from the singer. Your attention continues to be drawn to the fact that this is an old rocker hopelessly trying to croon.
The guitar player steps up with a solo on his Les Paul who does manage to first turn off his Rocktron distortion pedal. You listen intently to see if his desperation to come up with something that resembles a jazz lick will succeed.  A slight bit of nausea begins to set in as you sit down to enjoy the meal.
Later, as you're about to take the first bite of that Triple Chocolate Mousse Delight you feel a tug on the arm. You turn around and someone 20 years your senior whom you've never met in your life says "come on honey".
You begin to think, "Where am I going?" But, before you figure it out, you notice the band, which you've managed to block out with spirited conversation, playing "Shake Your Tail Feathers". You look back at this woman. Suddenly, putting two and two together, all the suave and sophistication has changed to "HELP!!!"
The " Scott Schumann Trio" is about complementing the food, décor and atmosphere you tried so hard to achieve, not take it over like a revolution. Three topnotch jazz artists that can also top off your evening with some classic Rhythm and Blues if desired.
Our drummer is a vocalist from Detroit "Motown City". He's sung and played on numerous records including three of his own which went "Gold". An additional very talented jazz/soul singer can be added if vocal material is preferred over instrumental.
From Timeless Melodies of the Past to Eloquent Styling of the Present
From Ellington to Elton
Make Your Next Event One to Remember!!
Corporate bookings:
Ted Turner, Atlanta Braves, Chick-fil-a, Coca Cola, General Electric, Corporate Challenge, Fellowship of Christian Athletes, Peach Bowl and many others.
Members have played:
Harrah's, Lake Tahoe, The Fox Theatre, New York City Palamino venues as well, Tony Braxton's wedding and Brian Littrel's (Back Street Boys) Christmas Party.
VIDEOS
Scott Schumann Jazz Quartet feat. Tamie Schumann from Inerverse Productions on Vimeo.
Scott Schumann Jazz Quartet feat. Ramona Jones from Inerverse Productions on Vimeo.
SOUND SAMPLES