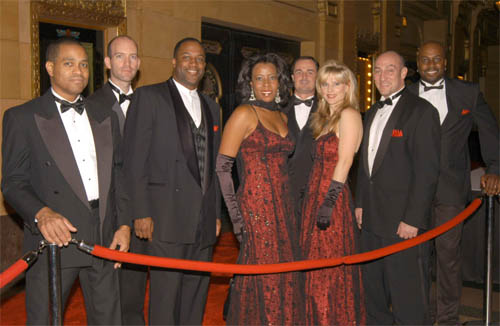 Platinum is no doubt one of the most dynamic, versatile, and enthusiastic bands in the south! This group consists of some of the most talented performers from the Atlanta area who have come together to form this high-energy, interactive experience for Weddings, Corporate Events, Bar/Bat Mitzvahs, or any other special event that requires great entertainment.
From an intimate get together for fifty to an earth-shaken' party for thousands, Platinum entertains from the first song to the very last. This is a band with fresh energy, yet it has the experience and professionalism to make your event smooth, memorable, and most importantly… FUN FOR EVERYONE!
With a talented rhythm section of bass, guitar, drums, keys and sax, they're able to set the vibe for three powerful vocalists who explode with dynamic energy and tight
choreography. Platinum puts on a show that is the best of the best. They provide an eclectic array of musical styles, from classy Jazz Standards to party starting Motown, Disco, & Funk to the heart-stopping dance grooves of the 80's, 90's, and Today. This band is guaranteed to keep your dance floor packed!
Platinum can also extend the excitement of any theme party through the use of costumes, props, or special musical requests. If you're looking for a band that your guests will be raving about for years… you need Platinum!
SOUND SAMPLES
TESTIMONIALS
"The band was great, with terrific voices and instrumental play. Professional, friendly, and enthusiastic, I recommend them highly."
Sandy V. Father of the Bride, Old Edwards Inn, Highlands, North Carolina, March 8, 2014
——————————————————————————
"They were everything we had hoped for and more!!!! The crowd absolutely LOVED them! Even the old folks couldn't resist the dance floor!!! I just had to let you know how thrilled we were – everyone in town this morning is talking about how fantastic the band was! My husband is already trying to come up with an excuse to have a big party so that we can book them again! I really just can't say enough about how much fun they were. Thank you so, so much for all your guidance (and your recommendation of Platinum in particular!); we can't wait to work with you again!"
Mary Elrod
---
"Platinum were absolutely perfect for our reception. Make sure they know that. All of our friends and family were blown away by the quality and energy that they brought…the dance floor was packed! It was just great."
Joe Dallas
---
"We had so many compliments from our guests about how great our band was. "The band is GREAT!" was the first thing our guests told us when we arrived at the reception. Brian and I agree. Platinum by far was the best band we have ever heard at a wedding. They sound amazing, have great energy, got the crowd involved and were tons of fun!"
Brian Findley Reception Location: Capital City Club
---
"Thanks Axtell so very much for all of your hard work and helping us to have such a dream wedding!! Everyone especially LOVED Platinum! They were so much fun and got everyone on their feet and they were so interactive. They were so amazing, every song and they kept on playing with a smile all night!"
Julie W. Reception Location: 4 Seasons Atlanta
---
"The band was awesome! Beyond expectations! I appreciate everything and look forward to thanking you in person. "
Lynda Petrylak- Wedding , Georgian Hotel
---
"I was so sad I didn't get to meet you at the wedding, but I sure enjoyed watching you up on the stage. I want to thank you for everything this past weekend (July 1st). You would not believe how everyone is raving about the incredible band we had 🙂 Ya'll were incredible. No one could keep themselves off the dance floor. Please know that we were very pleased, and look forward to hearing you/working with you again sometime in the future. Thanks for everything! PS – Thanks also for working with Jimmy Averitt (our family friend who sang Mustang Sally) – it was a big hit! "
Melissa (Cooper) Rowling-Wedding, Dallas, Tx.
---
"We will recommend Platinum to others for certain-they made the event with their awesome entertainers and overall energy level. The dance floor was packed."
Mr. Robert Rowling, TRT Holdings- owner, Omni Hotels
---
"Platinum was wonderful at Amy's wedding! What a performance! The band did a great job! Both Virginia and Kevin were both very professional and fun to work with. They have a great routine and an uncanny ability to get the crowd on the dance floor. They are a very talented group. During the night, I had several people tell me they were going to recommend them to family and friends that had upcoming events. I will surely recommend them to all of my friends. Platinum is a very fitting name for this talented ensemble! Please express my thanks to Virginia, Kevin and the group for their part in making the wedding celebration a tremendous success."
Ed Schwartz – Father of the bride
---
"I can't even begin to tell you what a great time we had. (Platinum) was evenmore than I expected. I have gotten so many compliments on theband. Their energy was amazing. They also did an amazing rendition of our wedding song. Absolutely amazing."
Josh Allen- Groom, Hilton Head, SC
---
"It is with great humble gratitude that I send this note along. Once upon a time, my daughter and I began making wedding plans. From the start, we differed on opinions as in all weddings that takes place. But one thing that I would not compromise on was the music. Khara wanted a DJ and I wanted a live band. I expressed my thoughts to her and assured her that a good band can do both and do both well. Now, of course I want to say 'thank you' for proving that mom was right, but more seriously, I want you to all to personally know that not only did all our guests comment favorably on your performance that night, the bride and groom were beaming! They had such a grand time at their wedding and we owe it all to your performance…."
Angela & Arthur Lombardi
Lombardi – Santorelli
---
"Everyone raved about the platinum band and had a wonderful time dancing to their music"
Christmas Party – Laurie
---
"I had promised our daughter a good band for her wedding. Platinum exceeded our expectations in every way! They provided a GREAT show. We especially appreciated the cordial and engaging way that they treated the crowd. I plan to call for them again!"
Wedding Reception-Fairhaven Estates -George
---
Wedding Reception at the Biltmore Estate in Asheville North Carolina: "they made the reception exceptional! Thank you!" Dale Miller
---
Wedding Reception Lake Lanier Islands: "terrific band!!! They played great, The guests on the dance floor. Would highly recommend. They were professional!" Sharon Amschler MOB