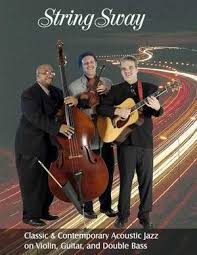 Classic and Contemporary Acoustic jazz on Violin, Guitar and Double Bass. We play "mainstream" jazz, which means standards people know and recognize in the bossa, swing, gypsy jazz, bebop, blues, latin, international and other styles – even classic rock tunes with a jazz flair. Our eclectic string jazz is fresh, powerful and unique.
String Sway Trio offers a unique & elegant sound. Jim Kirkland – Violin, Maurice Austin – Double Bass & Tom Righi – Guitar. Atlanta, Georgia-based String Sway formed when three highly versatile and veteran musicians decided to play the jazz based music they enjoy. Music rarely heard today – sophisticated, swinging, skillful & accessible acoustic instrumental jazz.
String Sway has a huge & varied repertoire. Jazz is their preference, but String Sway covers blues, bluegrass, cajun, celtic, classic rock, classical, pop, international and world music. We know hundreds of songs and our large and varied repertoire will allow us to please any client! We are consummate pros who know how to make it happen. Requests are welcome and our setup allows a strolling or stationary approach.
SOUND SAMPLES
TESTIMONIALS
"Strings Way was the icing on the cake. Their tasteful and elegant sound added just the right touch."
---
"We appreciated the flexibility of the band. When our outdoor event was rained out, they went inside and played unplugged. It was unexpected and really neat!"
---
"Wow, what a versatile group. They had several requests, and played them all. We received many favorable comments from our members. Highly recommended."
---
"The jazzy Beatles and Classic Rock songs were quite a surprise."