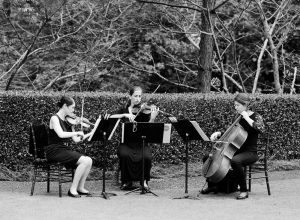 The Atlanta Trio is a musical ensemble with extensive experience and expertise. Co-Founded in 2021 by Ms. Katerina Lewis Rakestraw and Dr. Emily Laminack Wetzel, both former members of the ensemble Luna Strings, each member holds over a decade's experience of quality performance and tailored event coordination. From classical concerts to rock concerts, intimate weddings to corporate galas, studio recordings to on-set filming, the Atlanta Trio knows how to make your event both unique and exceptional.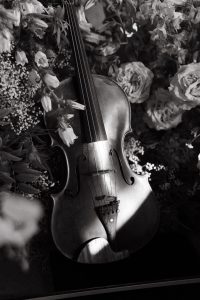 EMILY LAMINACK WETZEL
Emily Laminack Wetzel has Bachelor's, Master's, and Doctoral degrees in violin performance, with minor areas in viola and piano performance. She has performed in Germany, Austria, Italy, China, and throughout the USA participating in orchestras, opera orchestras, film music, pop concerts, chamber concerts, and solo recitals. Dr. Wetzel has over a decade of teaching experience ranging from instrumental lessons to academic music classes, beginner level to university performance major, and age toddler to adult. Dr. Wetzel currently teaches violin, viola, and piano in multiple locations throughout the metro Atlanta area and maintains an active freelance performance career.
KATERINA LEWIS
Atlanta native Katerina Lewis is a founding member of The Atlanta Trio. She is a freelance performer and teacher of viola and violin who began working as a professional musician at the age of 14. Katerina holds a Bachelor of Music degree in viola performance from Converse College and a master's degree in viola performance from Georgia State University. She is also the principal violist of the Atlanta Pops Orchestra and has performed with well-known artists like Gloria Estefan, Celtic Woman, the Zac Brown Band, Josh Groban, and Trans-Siberian Orchestra.
TESTIMONIALS
"We had a wonderful experience working with The Atlanta Trio for our wedding. They were incredibly professional and detail-oriented, answering all my questions about the music for our ceremony. They arrived on time, set everything up perfectly and were playing before anyone even walked in! And their performance was beautiful – our friends and family could not stop talking about it! I believe that it really added a classic, special touch to the ceremony and the set the tone for our wedding day. You will have a great experience working with them, from start to finish!"
KATIE • CHASTAIN HORSE PARK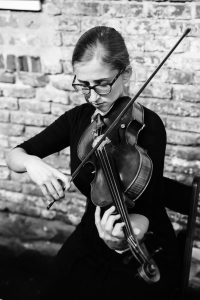 "As the owner of a lovely and historic Southern events facility that has hosted hundreds of weddings, I feel an incredible responsibility to surround myself with only the very best cake bakers, floral designers, photographers, and musicians. Brides trust me to provide them with musicians who will be playing the music that will accompany them down the aisle! Katerina Lewis, Leah Jacobson, and Erica Ransbottom, who are The Atlanta Trio, have played their beautiful music for countless brides at Kimball Hall, always with rave reviews. They are a charming trio, totally professional, so very accomplished, and a joy to have as a part of my "family".  I would be honored to have them as a part of any event!"
JULIE STEPHENS • OWNER OF KIMBALL HALL IN ROSWELL, GEORGIA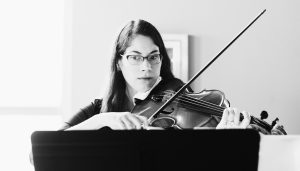 "The Atlanta Trio did an amazing job at my wedding! They were so organized before the event and wanted to make sure everything was exactly how I wanted it to be. They gave great recommendations as well. I had a garden wedding and their beautiful music made it complete. So many of my guests complimented their performance style and musical selections during our cocktail hour as well. I wanted cocktail hour to be a little more upbeat and they played music I did not know was possible to play on stringed instruments (like Sweet Caroline and All You Need Is Love, etc.) I would highly recommend The Atlanta Trio, they were fabulous to work with!!"
RYAN • GIBBS GARDENS •