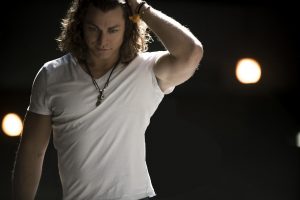 "Upbeat positivity is a Wes constant, in his music and his attitude", said Rolling Stone Magazine of the blue-eyed Atlanta songsmith. Georgia Music Magazine said that "(Wesley) may just be the next big thing" in a recent publication and he was dubbed "Best Atlanta Singer-Songwriter" of 2014 by Jezebel Magazine. Long before these accolades, Wesley Cook was raised in places like small villages in the former West Germany and a city in South Korea where he learned from an early age the many things that all people share beyond language and culture. "My passion in life is to speak the universal emotion of love through the universal language of music". As a songwriter, listeners are sure to hear the familiar world and rhythmic influences of Dave Matthews, Paul Simon, Jason Mraz and many more, although he captures a sound that is very much his own. "He's one of those artists that is very tough to classify… again, that's fine with him…." said Billboard.com. As a front man, his high-energy showmanship and down-to-earth charm makes it impossible for the crowd not to love him. Wesley has shared the stage with artists such as Zac Brown, Sublime, Tonic, Edwin McCain, Santigold, Manchester Orchestra, Marc Broussard, Ben Rector, Angie Aparo, Drivin'n'Cryin, Mishka and more.
In Wesley Cook's 3rd studio album Heavy, he combines the upbeat, positive message he's so loved for with a mature, gritty edge as this album deals with and is dedicated to the memory of his brother who took his own life in April 2012.
"This album is about hope, life and healing", says Cook "and about understanding that there will always be very hard things to go through but that you can make it out alright." Although two of the six songs on this album were written directly about the devastating experience of losing his brother, he approaches them with raw honesty and a familiar silver lining that says that life does go on and that it will get better if you want it to.
In addition to the heavier subject matter there are upbeat songs like "Heavy" which is about not letting material possessions control you, to be wary of the "rat race" and to find your own happiness in the simple things. "Give Me Something To Believe In" has a flavor of light-hearted social commentary and "Up The Wall" is a romantic, sexy song about the magic of new attraction.
The single of the album "It's You" was written based on a 3 second observation at an airport. A man and woman of similar age walk past each other and each turns around to check out the other but neither catches the other doing it. A missed opportunity for a life-changing, chance meeting? Out came this song about how cosmic true love can be and the soul's hunger to find it.
He's also been very active in philanthropy by playing for foundations like The American Foundation for Suicide Prevention, American Cancer Society and many smaller organizations around the US. Mental health, Autism and cancer being two of the more personal causes that have effected his life directly.
He released his solo acoustic debut album, "We've Been Here Before" in 2005 as a resident of Athens, GA and quickly got the attention of music lovers as well as a nomination for Soloist of the Year. His single "So Long" from that album was even added to the "Essential Athens Collection", a music compilation available for download on iTunes, features REM, the B52s, and other renowned artists associated with the Athens music community. Wesley was featured as an "Artist on the Rise" on MTV2 with his quickly gained clout within music circles.
His newer, full-band album, "New Ground", in May of 2010. Since that release, he has also been nominated for Best Alternative Band by the Georgia Music Awards. "Leave It All Behind", from Wesley's "New Ground" album, was featured on music blog, RadioPotato.com, as one of the "Top 5 Songs of May" and the single "Sway" was featured with a live performance on Fox 5 Atlanta as well as NBC Nashville. He has since made regular appearances on television programs such as CBS Better Mornings, NBC 11Alive Metromix Soundcheck, in addition to several Comcast programs. He has performed in Festivals such as the Dogwood Festival, 99X Unplugged in the Park, Lenox Mall's Legendary July 4th, Dunwoody Arts Festival, Piedmont Park Arts Festival, Summer Shade Festival, the Chattahoochie Mountain Fair, Madison County Fair, AthFest and even Macon GA's famous Cherry Blossom Festival. He has appeared on Radio stations such as DaveFM, 99X, Rock 100.5, 94.7 The Bull, WUGA at the University of Georgia and WREK at Georgia Tech.
Wesley has loyal fans and critics in the US as well as abroad in countries like Argentina and South Korea.