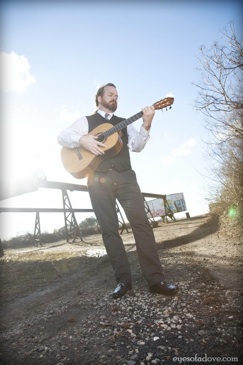 Guitarist
Even as a young boy, Keith knew he wanted to be a professional musician. Today he enjoys a successful career as a concert guitarist, recording artist, composer, and teacher. Keith began his performing career in the late 1980's with a simple philosophy: advance the art of guitar performance through diverse music that appeals to a wide audience. His many musical experiences (from rock to classical, folk and flamenco) have produced an artist with a perspective and style that is unique in the world of classical guitar.
Keith's numerous performances have delighted audiences at universities, art festivals, community concerts and private events throughout the Southeast. He was recognized for his outstanding musicianship by the Georgia Council for the Arts by being selected every year since 2000 for their prestigious Touring Roster. Recordings include – Guitarist (1999), Winter Song (2002), and Nocturne (2003) the last two of which are distributed nationally by Holly Creek Collection.
Keith has made numerous television appearances in support of his endeavors and has had performances aired on Georgia Public Radio and Alabama Public Radio. A number of his original compositions and arrangements for solo guitar have been published and are distributed internationally by Willis Music Company, Mel Bay Publications and FJH Music Company.
A classically trained musician, Keith earned his Bachelor of Music degree in guitar performance from The University of Georgia in 1990 under the guidance of acclaimed guitar teacher John Sutherland. In addition to his collegiate studies, Keith was selected to participate in the 1991 master class of Grammy nominated guitarist Christopher Parkening at Montana State University in Bozeman, Montana. There, he was chosen by fellow students as one of six distinguished performers to represent the class in a public concert.
No matter what the setting, an evening concert or an elegant wedding, Keith offers his audience artistry of the highest level. Through an inspiring recording or breathtaking performance choose to make his music a part of your life today.
Keith G. Guitarist: For the Bride;
Weddings have become a staple of my performing career. In fact, I've performed hundreds of wedding ceremonies since 1987, and currently average about 30 per year. Experience is key when hiring a musician for one of the most important days of your life. Hobbyists or students may offer a lower price, but you simply won't receive the same quality performance and service you'd expect from an experienced, professionally trained musician. What's more, weddings are a pleasure for me, not just another job. Witnessing couples exchanging their vows is an incredibly touching moment that warms my heart every time and gently reminds me of what really matters in life.
I would be honored to play the perfect wedding music for your special day. Call today for your custom quote or to request your FREE music portfolio and wedding favorites CD!
Performance fee includes the following:
30 minute "mini concert" prior to the hour of the wedding
Processionals, interlude (if necessary) and recessional
Pre-wedding in person consultation with the bride and groom
(or parents) for music selection and ceremony coordination
Sample CD, support materials and contract
All sound equipment necessary for the event
Don't forget for your attendants and guests. CD's make a wonderful gift!
SOUND SAMPLES
TESTIMONIALS
"Rich, Thank you for checking in with me! Everything was perfect with Keith and he did an amazing job. I received many compliments that he provided just the right ambiance – not too loud, overbearing, or annoying – the right mixture of music. In my opinion, those remarks are worth much more that my remarks because our guests are the people we are trying to please!
Thank you again!
Kristi Thompson
Program Coordinator"
—————————————————————————————————————
"…an outstanding young classical guitarist…In a word, the concert was exceptional." — Jefferson Press
---
"…guests were enthralled at Mr. musical talent…" — Waycross Journal-Herald
---
 "Your warmth and artistry left our people wanting more… you left us spellbound with your mastery of both your music and the instrument." — Wayne McDonald, Director Sylvania First United Methodist Church Evensong Concert Series
---
"Once again, I'd like to express our thanks for your fine performance here in Sautee-Nacoochee. You are not only an extremely accomplished guitarist, but a fine person as well." — Brent Glenn, Artistic Director, The Center Theatre
---
Keith, your beautiful music was a very special part of Jill and Michael'swedding last June – a lovely memory." — Jenny K., Gainesville, Georgia
---
"Thank you so very much for providing such beautiful music. Your talent is a gift and in return you gifted us!  Thank you, thank you, thank you!" — Charlotte R., Atlanta, Georgia