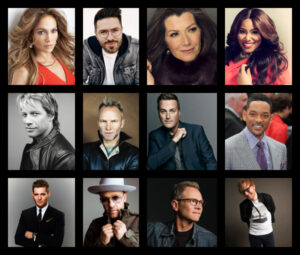 Looking for an Atlanta Event Planner to Bring in National Talent for Your Event?
Axtell has the ability to book diverse, well-known artists for your next event. Our star power includes entertainers such as Tony Bennett, Natalie Cole, Steve Miller Band, Michael McDonald, Hall and Oates, and more. We also have access to great country music stars such as Clint Black, Kenny Rogers, Dolly Parton, Alabama, Brooks and Dunn and many others.
In addition to these mainstream acts, we also have an extensive roster of Christian bands. Our Christian performers include acts like Amy Grant, Jars of Clay, Debby Boone, The Winans and Steven Curtis Chapman. With the star quality of our performers, people will be talking about your event for years to come!
Stand-up comedians are the perfect complement for many corporate entertainment events! Jeff Dunham, Adam Sandler, Sinbad and Dennis Miller are sure to leave them laughing!