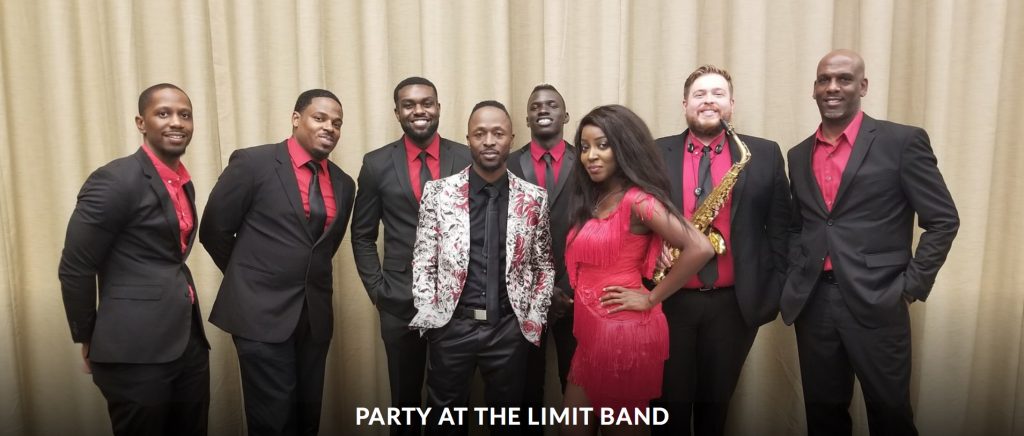 8 piece (Keyboards, Bass/background vocals, Drums, Guitar/lead vocals, Male lead vocalist, 2 Female lead vocalists, Female Sax, & DJ)
Party at The Limit; PATL is a dynamic 8 piece band, plus DJ that is a highly versatile party band who electrifies their clients and guest with an incredible show that's customized for weddings, corporate and civic events. They perform at a high energy level keeping the party fun constantly flowing. A hallmark of PATL is their ability to get a party started and leaving clients and their guest wanting more. Wardrobe changes are standard with hip choreography . They use state of the art lighting and sound equipment, provide an exceptional vocal presence and party experience at every event. With Party At The Limit you are not limited to a certain style of music but get to choose the genre that best fits your event. You can choose Motown, Classic Rock, Disco, Funk, Country, Swing, R&B, 60's to today's hit. When the success of your event depends on the entertainment, depend on PATL!
TESTIMONIALS
"Led by Carlton, Party at The Limit made the 10th Anniversary Gala for Emory Johns Creek Hospital Spectacular! Under a stunning October sky, and clear and tent, the band performed energetic and awesome music to the delight of our guests. Carlton and Elliott were wonderfully accommodating to every request.
I would highly recommend PATL!
Thanks Rich! PATL was a great band! :-)"
Susan Highsmith Graveline, Meeting Planner, Emory Johns Creek Hospital Diamond Gala, October 21, 2017
———————————————————————————————————–
Uptown Columbus enjoyed having Satin Finish Band as a part of our Spring Concert Series on June 1, 2012! Satin Finish was easy to work with throughout all stages of the booking and performing process. Our event was outdoors and they didn't let a little rain ruin anyone's night! We really enjoyed having Satin Finish Band in Columbus, and look forward to the band rocking Uptown again in the near future.
Elizabeth Hurst
Vice President Community Relations and Marketing
Uptown Columbus
---
—————————————————————————————————
Satin Finish Band, "rocked the house" at our teammate awards banquet!  From great jazz to finger-popping R&B music, they kept the party going all evening.  The band's two female and one male singers, along with the talented musicians, put on a show.  Many teammates have expressed to me that they really enjoyed the music.  We will definitely use them again!
Darrell Briscoe
General Manager
McLane Food Service
---
————————————————————————————————————–
Thank you!  You all did a great job performing at my wedding reception!  I talk about your band all the time! If we decide to do any parties you will be the first we call!
Tawanna Gillard-Bride
---
——————————————————————————————————-
I wanted to send you a quick note of appreciation for the awesome performance your band "Satin Finish" provided  for my 50th birthday celebration.  You covered every genre of music from "Mustang Sally", to Chris Brown which kept my guests jamming on the dance floor the entire evening.
Many of my family and friends are still talking about the fabulous music!
Richard & Sharon Wilson
---
—————————————————————————————————–
Satin Finish  Band exceeded our every expectation!  Not only did they give an outstanding performance, they served as our logistics team and sound system provider as well. On the evening of the gala, Kerwin provided two additional services at no cost.  Even at the last minute, he did not hesitate to take care of our needs. Kerwin is a jewel and is the absolute best I've ever worked with during such an event.
Olivia Parks Wood
---
——————————————————————————————————–
We really enjoyed you and are so grateful for your entertainment and contribution to the event. We have you listed as our number one partner for Entertainment and Andrea raves about you to all her clients. Again thank you so much for partnering with us, we look forward sending you any referrals.
Warm regards,
Sabine-Twelve Hotel
—————————————————————————————————
---
I just want to take a moment to tell you how incredible Satin Finish band was at our holiday party.  We have been doing this party for 20 years, I have been organizing it for the past 6, since I joined the company.  While all of my parties have been successful, none could compare to the one a few weeks ago that you performed at.  Normally, we are challenged to keep all employees there after the gifts are all raffled off, but the gifts played "second fiddle" to the band!  Folks kept coming up to me asking how I found you, how long  were you performing, how incredible the entire band was and most notably the talented male and female vocalists.  My biggest compliment is that you all are not just a good band, you are great performers!  We are trying to find another function before next Christmas to have you all back.!
Thanks and please let me know anytime you perform at local, public events.  I have many colleagues who wish to see you all again soon!
Warmest regards,
Audrey Chanet Ngaleu
---
————————————————————————————————————–
This is a letter of recommendation for Satin Finish Band.
We had the pleasure of working with the Satin Finish Band on Saturday, July 23, 2011 at our National Pharmaceutical Association Convention in Atlanta, Georgia.  The band was hired to play for our "Forrest Myers" Hospitality Suite reception. From the beginning of the event to the very end the band brought the house down and I can easily state that the band was superb. They provided an excellent experience for our members and guests. They are very talented, and their music added style and fun to our event.
The manager of the band Kerwin Felix was very professional and a pleasure to work.  There was always clear communication, which was supported by professional business ethics.
Our members are still raving about the incredible time and felt that the Satin Finish Band really made the event memorable.
Please feel free to have anyone contact me as a reference; I look forward to speaking with any of your potential clients to let them know how outstanding you were.
Sincerely,
Sharon Early