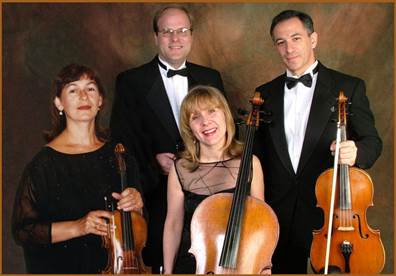 Axtell Strings play acoustic instruments crafted by great Italian and French masters but can also perform as an electric string ensemble using the latest hi-tech Yamaha instruments. The group blends the talents of top notch musicians some of whom you might have seen with ASO, Atlanta Ballet, Atlanta Opera, and other professional groups in the Southeast. It is your choice group for special occasions such as wedding ceremonies and receptions, special events, conventions, corporate dinner parties, etc. The group perform classical music on excellent acoustic instruments crafted by great Italian and French masters.
The group performs music of different styles, ranging from classical to jazz to contemporary and pop; the extensive repertoire includes traditional classical pieces such as Mozart and Beethoven quartets as well as smaller ditties like Pachebel's Cannon and Bach's Aire on G.
For jazz, folk and pop music, they delight audiences with their electric string performances. Electric strings are available as a string quartet or quintet. Not only do these instruments offer the sound and performance of their best acoustic siblings, they also give the musicians a choice of desired tone, sonority and timbre. This also allows for the sounds of different musical voices: from a string instrument to flute to brass to choir and everything in between. These electric hybrid instruments provide sound ranging from a whisper to a strong rich tone as powerful as a Boeing 747 warming up for takeoff, but infinitely more pleasing to the ear.
With this string ensemble you will have not only a choice of music but also your preference of a distinct sound. The superb blend of traditional and futuristic design of these instruments will bring a unique visual touch to your occasion.
SOUND SAMPLES

TESTIMONIALS
"Y'all were Amazing – It couldn't have been any better! THAN YOU!
Ashley Copelan, Bride, Sandy Creek Barn, Greensboro GA.
——————————————————————————-
Wedding Reception-The Peachtree Club:  "I was very pleased with the quartet.  The music was beautiful.  I hated for it to stop."  -Dianne