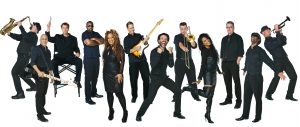 The Rupert's Orchestra is a twelve-piece dance band that formed in 1987 to open Rupert's Nightclub in Atlanta, Georgia. For over eight years they played to packed houses and were voted Atlanta's best house band every year. They have now focused their attention on the corporate and private events market.
The band is comprised of some of the finest talent from around the nation. At the core of the group is a driving rhythm section accented by a fiery horn section, and an explosive Latin percussionist. Fronting the band are four of the hottest vocalists around, each with a unique sound, performing both lead and background vocals.
With an eclectic repertoire of more than 1500 songs, the Rupert's Orchestra performs everything from current Top 40 hits to Motown and Classic Rock to the 1940s Big Band Sound. Their show is flashy and highly interactive. Party-goers of all ages find a lot to like and get caught up in the fun.
The Rupert's Orchestra has been featured at numerous corporate events across the country including performances for The Coca-Cola Company, M.C.I., Turner Broadcasting, BellSouth, The Atlanta Committee for the Olympic Games, and Sport's Illustrated to name a few.
The Rupert's Orchestra performs everything from current Top 40 hits to Motown and Classic Rock to Swing. And because their show is upbeat and highly interactive, party-goers of all ages will get caught up in the fun.
The Rupert's Orchestra's unique sound and performance versatility make them a perfect choice for events such as corporate functions, conventions, special events, private parties, weddings and more. Check out The Rupert's Orchestra and find out for yourself why this entertainment group is more than music!
The Rupert's Orchestra – Pop Hits from Mark Coughlin Media on Vimeo.
TESTIMONIALS
"Rupert's high energy lured even the stodgiest of us out on the dance floor. Your wide variety of music kept everyone enthusiastic and begging for more! The party ended on a very positive note with high expectations for the next year's party!"
Susan L. Rattleff, CPS
BellSouth
Executive Assistant
---
"I would like to personally thank you for the contribution of the Rupert's Orchestra for the Esprit Celebration. What a difference great music makes!"
Ali Bayes
Special Projects Coordinator
International Special Events Society
---
"We have heard nothing but wonderful compliments from our party-goers about the great Rupert's Orchestra. Everyone enjoyed the musical selections and enthusiasm of your musicians. All those terrific dance tunes really inspired our people to get up and dance!"
Ann Coker
Lend Lease Real Estate Investments
---
"When Rupert's Orchestra performed for Zoo Atlanta's annual black-tie gala, The Beastly Feast, the dance floor was constantly packed and no one minded. The band is fabulous!"
Carolyn Wynens
Zoo Atlanta
---
"My most sincere thank you for a job well done…the event was a huge success and part of that success is, of course, due to the participation of Rupert's Orchestra."
Lydia Townsend Montgomery
Atlanta Committee for the Olympic Games
Special Events Assistant Program Manager
---
"You did it again and brought the house down. You always deliver."
Meg C Reggie
Atlanta Magazine
Director of Marketing
---
Black Tie Party-The Fox:  "They were FANTASTIC!!!"  – Lindsay
---
The Ruperts orchestra, are amazing…no really… amazing.
Thanks to you an absolutely beautiful and delicious evening turned into a PARTY!!!!
The feedback to us on every aspect of the wedding has been overwhelming, but without fail, every person mentions the orchestra..INCREDIBLE!!
I hope you get lots and lots of future business from this, and if you ever need a referral….you know who to call.
On behalf of our family and all of our guests
THANK YOU!!!!
– Marcia & Richard Jacobson
---
Dear members of The Rupert's Orchestra,
The thought of waiting a week (for the bride and groom to return) to thank you for your fabulous performance was just unbearable to me, so I had to write immediately. I have been to a few weddings in my time, but I've not experienced a better sound, nor a better "crowd" vibe than we had last Saturday. Thank you so very, very much for your tremendous talents and delivery. Everyone was going on and on about how great you were and how much they enjoyed dancing to your selections.
Our deepest appreciation to all of you for making our evening so very memorable. "The Band" was without a doubt the most important decision for Erin and Bruce and they chose you with every confidence and rightfully so — your musical gifts were such gifts to us all. Thank you and all the best to you going forward. We will be singing your praises wherever we go,
With all best regards,
– Sarah Murphy
---
Rupert's were AMAZING! Everyone, and I mean everyone, loved them! I can not tell you how many compliments I received on their performance especially from our NY, Chicago and DC guests. I believe that to be the highest of compliments since those three cities think they always have better….
Most importantly were the bride and groom. Erica and Michael were thrilled with Rupert's and said they had the greatest time at their wedding and loved the music. I don't think it gets any better than that!
Thanks again for all of your communication. We will be having two more weddings 🙂 so assuming they are in Atlanta, I'm sure you'll be hearing from me!
Best,
– Amy Bubes
---
We did not want to delay another day to offer our sincere appreciation for your making our rehearsal dinner at the LakeHouse at WaterColor an event like no other. I cannot begin to share all of the comments and compliments that we received. Your performance exceeded all expectations. We knew that you would impress, but your performance was everything we had envisioned and so much more. All of the musicians, your vocalists, and you are true professionals and at their best when they walk onto the stage. You all genuinely connect with your audience. Your energy is contagious! We had many guests who we call "confirmed dancers" who joined us on the dance floor, but you were able to entice the non-dancers to the floor for the entire evening. Your performance of "Let's Groove Tonight" was one that we will never forget.
We were thrilled to see our son, Benjamin, enjoying the music, dancing, and even sharing the stage with you. He is such a serious young man, so this was somewhat out of role for him. We enjoyed every minute! Including contemporary music for all of our younger guests was the perfect blend with our "stuck in the 80's" playlist. You perform all with such skill and talent, it is absolutely impossible to determine your sweet spot!
Our best of all of our Rupert's friends,
– Van and Linda Jackson
---
What a night! Y'all are awesome, everyone went crazy over the music! I would love to be a reference!
The only let down was it ended way too soon. The music was so good, we saw in a mag y'all are playing in Woodstock and I think we are going to get a group to go see y'all. I will for sure use y'all again, It was such a pleasure working with you. Thanks again
– Dee Nixon
---
I just wanted to thank you so very much for making Michelle and Josh's Wedding so Fantastic!! Your band is phenomenal and as you could tell, everyone danced the night away!!' Every guest there came up to me and said that y'all were the Best Band they have ever heard and it made our Wedding so much Fun!!!
I have 2 more children and I told them we are waiting for another Wedding so get going with your dating!!! I look forward to working with you again!
Thank you from the bottom of my heart for making our Wedding exactly what we wanted!
– Karen Shmerling
---
I needed to let you know that we have been to many weddings/receptions and parties but, we and our friends think that your band was the best we have ever seen at one of these events.
Thank you so much for a fantastic night…before I gave my toast you were playing a song by the Tams, one we all knew from our days in college in Virginia – that alone started the night on the best possible footing…Once again, you all were fantastic and thank you for making my daughters reception an incredible success.
Regards,
Doug Weidner
---
We can't thank you enough for giving us a memory of a lifetime. You and the rest of your team need to know that our wedding guests were blown away by your performance and talent! People could not stop talking about how incredible you all were. I know it made the wedding one for the memory books and we can't thank you enough!
All the Best,
– Renie Stazak
---
Thanks so much! We can't thank you enough for preforming at our wedding, it was the most fun we've ever had and the BEST day ever!!! 🙂 We have received so many compliments about how great you guys were, truly we had the best band and hope we can use you again down the road for an anniversary party 😉
Let us know if you need anything else and thanks again!
Take care,
Kristen Frey
---
I can't tell you how many people told us they've never heard such a great band at an event. Everyone was on their feet the whole evening! What a great band!! Everyone was just blown away.
Bernard Greenberg
---
Wonderful job last night for the Bryant wedding! You all had the dance floor packed …. a great crowd and a great evening! Such a pleasure working with you, and we'll look forward to the next one! Many thanks for an awesome job!
All the best,
Barb Campbell Schickner
Kate and Campbell Creative Weddings and Events
---
The band was FANTASTIC!!!! Everyone had a great time and we danced the night away! We will definitely use you again; please feel free to use me as a reference, if needed. Thanks for the follow-up; have a great day!
Joan Noonan
---
Just wanted to thank you for making Amy and Jordan's wedding so great!
Everyone raved about how terrific the band was and you were truly a pleasure to work with from start to finish.
Many people recognized and appreciated that the band played at a perfect volume where it was really high energy, but they were still able to talk. A testament to your professionalism.
Here is a comment from one of my friends:
Great music and a dancing crowd really upped the celebrating and festivities. It's rare to get my husband on the dance floor, but last night it was hard not to be bitten by the dance bug.
Look forward to seeing you again soon and look forward to seeing the video!
Best,
Ellen & Michael Chalef
---
YOU GUYS ROCK!!!!!!! I have never seen such a crowd at the end of the night! THANK YOU! Wish I could have you all come sing for me EVERY NIGHT! It made me so happy as it clearly did everyone else as well!!
Thanks so much and I WILL be calling again soon!
Lucy Faxon | Senior Specialist, Distinguished Events
---
YOU BROUGHT THE HOUSE DOWN!! I have never seen so many folks on a dance floor at an event.
Thank you for sharing your talents with us!!!
Gracie Rice