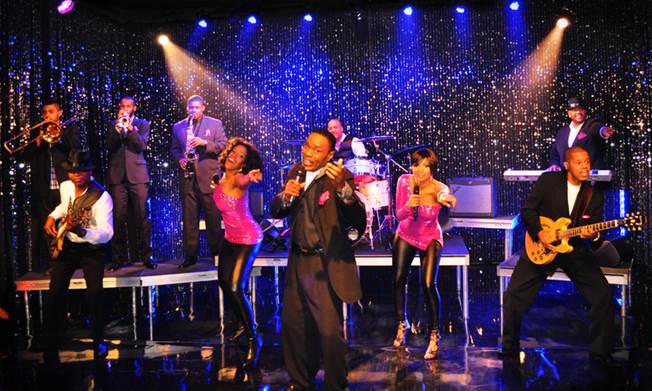 Welcome to the exciting and dynamic world of the Infinity Show Band where you get a glimpse of this powerful ensemble that has dazzled audiences and guest with their unique entertainment extravaganzas. This high energy group packs dance floors as they entertain with total fun and audience participation creating memories for a lifetime.
As one of the Southeast most popular bands, Infinity Show Band provides just the right ambiance for every event. Their motto is "Every Customer Must Be Completely Satisfied." From smooth or traditional jazz during dinner to our irresitible party music your guest will love and remember, Infinity Show Band captures the essence of every event with dynamic showmanship, hip choreography, high energy, great musicianship, costume changes and superb vocal harmony.
Musically, with Infinity Show Band you do not have to settle for one style of music for your special event. They play Motown, R&B, Disco, Beach, Country, Blues, Raggae, Rock & Roll, Jazz, Smooth Jazz, Latin, Zydeco, Holiday, Jewish Traditional and music from the 50's to today's hits with superb musicianship accuracy. Our event questionnaire and personal consultations help us to pin point just the right style of music for your event that your guest will find irresistible.
With Infinity Show Band, the possibilities are endless!


TESTIMONIALS
Hi Rich,
I'm sure you've heard by now about the rain and last second change of venue for Saturday night's event. I need you to know that Sean and the rest of the Infinity Show Band were so extremely gracious in how they handled the situation. They were faced with so many hurdles with our director of golf not allowing them to sound check on time to the rain coming in and thinking we'd still stay outside to the 6:45pm decision to move into the ballroom 15 minutes before the supposed event start. I was a total stress ball, hating to even ask them to move their equipment, feverishly checking 3 different weather apps all of which were saying something different.
I cried when I thanked them because I was genuinely touched by their willingness to help me out. Each member of the band was so kind to me, so agreeable that we needed to pull together to do the right thing, so efficient in their set up that we were able to start the party only 1 hour after the shift begin. Simply put, they were amazing!!
Please pass along my sincerest gratitude to each and every one of them for being total rock stars! I can't wait to have them out here again!
All my best,
Lisa
Lisa Henderson, Director of Catering, the Atlanta Athletic Club
———————————————————————————————
"The band was absolutely incredible – by far the best wedding and cover band I've ever seen! All of our guests continue to tell us how amazing they were! We especially loved it when some of the members came into the crowd to play. They were enthusiastic, fun, and professional. I would recommend them to everyone. 10/10!"
Jennifer Gross, Bride, Cater Woolford Gardens
———————————————————————————————————-
"The Infinity Show Band did a great job. They really involve the audience and there was seldom a tune when the dance floor was not full. Their high-energy show was most appreciated!"
John Bemont, Johns Creek Chamber of Commerce Gala
—————————————————————————————————————————————
The band was simply incredible! Absolute professionals and very accommodating. They covered the full spectrum of the r&b genre to the pleasure of all of our guests (young and old).
The leadership of the National Black Conference of State Legislators and the Illinois Legislative Black Caucus thanks you and the Infinity Show Band for making the 2011 Host State Kick Off event one of the most successful kick offs in the past 34 years of the Annual Legislative Conference!
I look forward to working with you and ISB in the future, thanks again!
Citseko
---
The Infinity Show Band was the highlight of our Anniversary Gala event and everyone in attendance enjoyed their performance. Mr. Felix promised a fun filled evening of good music and dancing and the Infinity Show Band delivered on that promise beyond my expectations. I especially appreciated the professionalism shown by Mr. Felix and the band members before and during our event. I can't thank Infinity Show Band enough for making our event a memorable occasion in our chapter's history.
Gina Martin
Fayette County Area Chapter of Jack and Jill of America, Inc.
---
Our guests still rave about how awesome the band was!!!! They played a wonderful variety of music and really got the crowd excited! The only thing we didn't like was that it had to end! : ) My friends and I love to dance and have a festive time, so it was very important to me that the band help make this happen, and they did just that! I danced a lot! They even got my mom and grandparents out there dancing recommend Infinity Show Band to anyone!
Allison Peppers,
Bride
---
One word—Amazing!!!
We chose Infinity Show Band based on their extensive song list and the fact that they were willing to learn two completely new songs for our wedding day (my father-daughter dance and our first dance). We loved the fact that they played all kinds of music, but we were looking especially for a band that could play Motown. I just graduated from college and my now husband is in medical school, so we had a wide range of guests (anywhere from a few kids to mid-60s).
The manager was on top of everything! I talked to him personally 6 or 7 times and he gave me his personal number so that if I had any questions I could call him. He was also in contact with my planner and my caterer. The band was on time and did everything we asked and MUCH MUCH more! They had everyone on the dance floor, but were not pushy to get people to dance instead people just went because the music was so great! We had multiple people tell us that our band was the best that they had ever heard at a wedding! People asked how we discovered them because they were awesome! Our guests also called us after the wedding, wrote in cards, and contacted us on face book about how outstanding and fun our band was!
I truly cannot say enough good things about the Infinity Show Band! They were perfect and we have already thought about having them for an anniversary/graduation party a few years down the road!
Juliette Lutz,
Bride
---
I am the mother of the bride, so I wish I was on my honeymoon, butalas, Jenni and Kevin are! But, I didn't want to miss this opportunity to tell you that Infinity Show Band was superb!! Jenni and Kevin actually chose them from your website. Our wedding planner Calder Clark of Blue Moon Events said they were a dream to work with. We received compliment after compliment on them AND, the dance floor was NEVER empty, in fact it was ALWAYS packed! They were incredibly professional…..played an amazing jazz set during cocktails and they kept the energy up through the entire dancing segment of the reception. I was at another wedding this past weekend with a well-known Atlanta band and they did not hold a candle to ISB!! They took two breaks in two hours and they couldn't hold the crowd. I wish I had another daughter to marry off, so I could use the magain! However, I am sure we will need a band sometime in the future and Infinity Show Band will be the first I call!! My son's wedding in 2008 was in the Bahamas and they had a band from NYC called Eternity. We thought, it might not get better than that…..but two weekends ago, it did!! Jenni and Kevin both graduated from UVA, so using Sam Hill and then a band from Atlanta, was perfect for us! Thank you for making that part of the wedding so special!!!
Jane Ridall
---
The Infinity Show Band was awesome. They worked so hard throughout the night to make sure that everyone was on the dance floor. Even my planner commented how impressed she was with their willingness to play longer to keep the party going. All of my guests commented on how great the band was. My husband and I were planning our wedding from Washington DC, and one of our guests thought that we had recruited the band from DC or New York to come play at our wedding. The band has such a great time on stage and their enthusiasm is infectious. He is also really responsive and very willing to go the extra mile. He was even willing to have the band learn a specific version of a song for our first dance. I can confidently say that choosing the Infinity Show Band was one of the best decisions we made for our wedding.
Danielle Truan,
Bride
---
I am a musician and when assisting my wife, daughter and her fiancée in selecting a band, I wanted to make sure their and our expectations were going to be exceeded. Additionally, my daughter asked that I write an original song for our father/daughter dance, which I did.
The Infinity Show Band not only blew away my original, but put together and OUTSTANDING show. Their flexibility, sense of humor and patience with a lot of requests made for an incredible experience – one that many of our loved ones and friends are still talking about as I write this review.
Not only that, they are genuinely great people who have an enormous amount of fun helping others have fun and their sincerity as creative artists is inspiring.
---
Book the Infinity Show Band! One word from the experience – let the band do their show and hold back some of the requests. They put on an act that has something for everyone. We had 80 year olds doing "Shout" with the best of the 20 somethings if that gives you a clue.
They are simply awesome and you will not be disappointed.
Karen Michael,
Bride
---
Infinity Show Band did our reception and EVERYONE loved them!!! They interacted with the whole crowd. My Grandma was even on the dance floor! As for working with the band before the wedding, Kerwin was so professional and called me multiple times to make sure everything was perfect. I could not have asked for a more professional and fun band to work with. I have heard more compliments on the band than any other aspect of the wedding. I LOVE ISB!!!
Julie and Greg Hunt,
Bride and Groom
---
Everything was great and I would highly recommend Infinity Show Band to others looking for a professional, well organized, and entertaining band.
Thanks!
Teresa Rabun,
UHS-Pruitt Corporation
---
Everyone had a great time at our Georgia State COE Alumni Club, Have a Heart Benefit and Silent Auction on February 14, 2010. The Infinity Show band "showed out!" We were all very impressed with the band's quality sound, professionalism, and interaction with our guest. On a scale of 1 to 5, I rate Infinity a 10! I was personally impressed with the non-stop performance as you played song after song. I have hosted many events and this was the first event that had everyone up on their feet, rockin' to the beat. Two weeks after our event people are still talking about the great performance by Infinity Show Band! Thanks Infinity. I am looking forward to our next event.
Elisa M. Tate
Associate to the Dean
COE Alumni Club Coordinator
College of Education
---
Being a performer who has toured with the 1993 Army Soldier Show as well as being a winner of the 2005 Debbie Allen FAMEUS Challenge (Pro-am Division) in Los Angeles, CA, I was over the top impressed with Infinity Show Band. Everything from their costumes to hair displayed excellence. The group did an awesome job interacting with one another and the crowd. Infinity's music selections and personal contact with the audience added to the already wonderful ambiance. The vocals were superb and well worth the cost. Professional on and off the stage. This was definitely high quality, 5-Star entertainment; an excellent choice by the event coordinators. Our group loved Infinity Show Band and look forward to seeing them again.
Yolanda Hingel
AKA, Savannah, GA
---
Infinity Show Band (ISB) performed at our annual Holiday Gala. There were over 500 people in attendance. Their performance far exceeded our expectations. ISB played a variety of music, interacted with the audience which kept the dance floor full and we danced all night! The band was very professional and  ensured all of our needs were met; play list, appearance and timeliness. All of our guest had nothing but positive comments about their performance. The fact that we have already signed a contract with ISB for our 2010 Holiday Gala is a testament that ISB is "AWESOME"!
Barbara Epps, President
East Point College Park Alumnae Chapter, Delta Sigma Theta Sorority, Inc.
---
What an awesome Band! Everyone is still talking about Infinity. You made the reception! It was just the fun party that I wanted. I had the time of my life and loved dancing with everyone. It was so nice working with you.
Thank you for everything.
Morgan Kettler
Bride
---
The Infinity Show Band was GREAT!!! I absolutely love Kerwin and the entire group. They had the group dancing and were so great about schedules and set-up times.
Thank you for everything.
Diane Henning
Sr. Catering Manager
Hilton Charlotte Center City
Wedding
---
Kudos to the fantastic Infinity Show Band! Upon my return, I have heard nothing but rave reviews about the Band's performance at the Airport Customer Service Conference. Not only did they love your music, but everybody was very impressed with the way you interacted with the audience. I may have drummed up some future business for you!! I even got fussed at for keeping you guys a secret. By the way, we have a big airport executive conference coming here in May 2011. We expect around 2,000 attendees from around the world. Needless to say, we expect to call on ISB again.
Thank you for a wonderful performance and I look forward to hearing from you soon.
Levert Hood, C.M. – Audit Manager
Hartsfield-Jackson Atlanta International Airport
---
It was a great evening and your band totally hit the mark with an A++++ performance. Our attendees were just raving about how great the band was and I had several executives stop me and also tell me they enjoyed the band as well. Thanks for going the extra mile to make this happen for us, we appreciate your excellent service and work.
Thanks again and we look forward to working with you again,
Lesley Hill
Event Planner
---
The Infinity Show Band was one of the highlights of our perfect day! You all were professional and classy and got our guests involved all at the same time. Your music and vocals were both top-notch and you all played a variety of hits that had our guests on the floor the entire evening. I will highly recommend Infinity Show Band to any of our friends who need a great band for their event. Thanks Infinity Show Band for being a part of our sweetest day!
Sterling and Johnna Frierson~
Nashville, TN
---
Kiman and I just got back from our honeymoon and I wanted to be sure to thank you and the rest of the band for an awesome event. The entire night all of our guests commented on how great the band was. I knew it would be difficult to get our guests to dance, but you made it happen. The music was awesome and you guys made the transitions throughout the night seem flawless. I also really appreciated you putting an additional microphone on the pastor. You really went above and beyond and your hard work definitely did not go unnoticed. If you ever need a referral or anything, please do not hesitate to ask. I promise to sing your praises!
It has truly been a pleasure to work with you this past year and I wish you all the best in the future,
Warmest Regards,
Tammy Choe
Bride
---
Good day to you and the members of The Infinity Show Band. Last Saturday night at Centennial Olympic Park, The ISB was "Off The Chain." I don't get to hear "live" bands often. July 4th was my first time hearing yours. It won't be my last. I really loved the tribute to Micheal Jackson. Classy, really classy.
Sincerely,
David E. French
---
Awesome, Awesome, Awesome! My entourage and I enjoyed ISB in the Park! I almost lost my voice from singing and screaming with the other 40,000 folks. The tribute to Michael Jackson was right on time! My only regret is that you guys could not play longer! Thank you for enduring the heat and giving Atlanta a "HOT" performance. You looked great in your Red, White, Blue! I looked around and there were Electric Slide lines and folks just partying in the Park!
Go Infinity Band!!!
Sharon Wilson
---
Hi,
My girlfriend and I were at Centennial Park for July 4th and we love you guys. Your groups was so entertaining!! I asked my
girlfriend why everyone in your group didn't try out for American Idol because everyone was better than most people on American Idol. The tribute to Michael was awesome and well appreciated. The crowd love you guys more than Vertical Horizon, so you guys rocked it out there. Everyone in the group was great and especially Ms. Dawn!! Well, thanks for the entertainment and we will think of you guys when we have our wedding reception in the future!!
Thanks,
Kei and Tiffany
---
"Outstanding musicians,exciting showmanship, and a commanding feel for the room." I have had the pleasure to retain Kerwin and the Infinity Show Band on several occasions, and they have never failed to "rock the house". Most recently, I hired them for my companies' (Corporate Services Management and AdTech Services) executive holiday party held at my home. Needless to say, they delivered as usual, and everyone left impressed (with their considerable range/style)and exhausted. The Infinity Show Band has definitely become the "house band of choice" for us.
Bert Fitts,
Owner/CEO
Corporate Services Management
AdTech Services, Inc.
---
Infinity Show Band is an absolute pleasure to see, hear and work with on any event. They are very professional, easy to work with and the awesome talent they have makes Infinity Show Band a top pick for any event. I will be sure to let all of our clients know about this great band.
With regards,
Jennifer Mineo,
Events by Dezine
To Whom It May Concern:
---
I wanted to send a letter of recognition and recommendation for Infinity Show Band and especially Kerwin Felix, who played for two of my resident functions last year.
I was recommended to them by one of my residents who spoke so highly of his band and his music.
They are extreme perfectionists and is a pleasure to deal with under any circumstance. They are professional, upbeat and will accommodate any musical style upon request.
His music is perfect and my residents were in awe of his band's talent. I will continue to utilize the services of Infinity Show Band and would highly recommend them to any one looking for a "class act"!
Sincerely,
Jim Stabler
Community Manager
The Wesley Townsend
Infinity Show Band
---
It is with great pleasure and satisfaction of a job well done that I write this thank-you letter. Words can't describe how I felt when I saw and heard the band. The Infinity Show Band performance and appearance was superior. You have my highest recommendation. All in attendance have called giving praises to the band. We were able to dance and party all night.
Thanks a million to KLF Productions, LLC for providing the Infinity Show Band and making my 65th birthday a most memorable occasion.
Sincerely,
Dr. Jacquelyn Woods-Thompson
---
Thank you so much for the fantastic performance at the wedding! My guests had so much fun and you guys did such a great job keeping the party going and reading the crowd. I have had so many people come up to me asking where I found you guys and that they had a great time.
Thanks again,
Christina Nixon
Bride
---
My husband and I were thrilled with the Infinity Show Band!!! You absolutely helped to make our daughter's beautiful wedding become a spectacular one! Our guests couldn't stop raving about the great band and the dance floor was always filled. To the band members—thank you all so much for your professionalism, your hard work and your amazing talent. You were a pleasure to work with.
Parents of the Bride – David and Chris Wallace
March
---
I was very impressed with Axtell Entertainment. The Infinity Show Band was great. Everyone at my wedding had such a good time and loved every song they played. I will for sure recommend the Infinity Show Band.
Georgia Murray
Mother of the Bride
Hey! – just got in from Aruba! Anyway, the band was awesome! Everyone loved them and had a great time. Thanks for your help.
Amy Roughton
Bride
---
Wedding Reception at the Atlanta History Center: "I couldn't have asked for a better band. Everyone was on the dance floor. Such a pleasure to work with."  Suseen Gregory
---
Good Afternoon,
Hope you are enjoying this awesome day!!
I wanted to let you know how much fun it was working with you on the Camp/Taylor wedding. Your band was a phenomenal success! I had guests all night coming up to me and commenting on what a fabulous band! Thank you!
---
Wedding Reception the Capital City Club Atlanta: "we were so pleased with you. I think you were one of the best bands I've ever seen at any wedding. There were so many things that went wrong and you were one thing that was awesome! Thank you, thank you, thank you! I would definitely recommend you. There are so many families that were there with weddings coming up, I hope you are at one of them! 🙂  Jodi D. bride
---
Wedding Reception: 
"The band was awesome!  I could not be happier with their performance.  All of our guests had nothing but rave reviews for them.  We would recommend this band to anyone and everyone without hesitation.-Derek
Rich…
---
The band was simply incredible! Absolute professionals and very accommodating. They covered the full spectrum of the r&b genre to the pleasure of all of our guests (young and old).
The leadership of the National Black Conference of State Legislators and the Illinois Legislative Black Caucus thanks you and the Infinity Show Band for making the 2011 Host State Kick Off event one of the most successful kick offs in the past 34 years of the Annual Legislative Conference!
I look forward to working with you and ISB in the future, thanks again!
Citseko 12/3/10