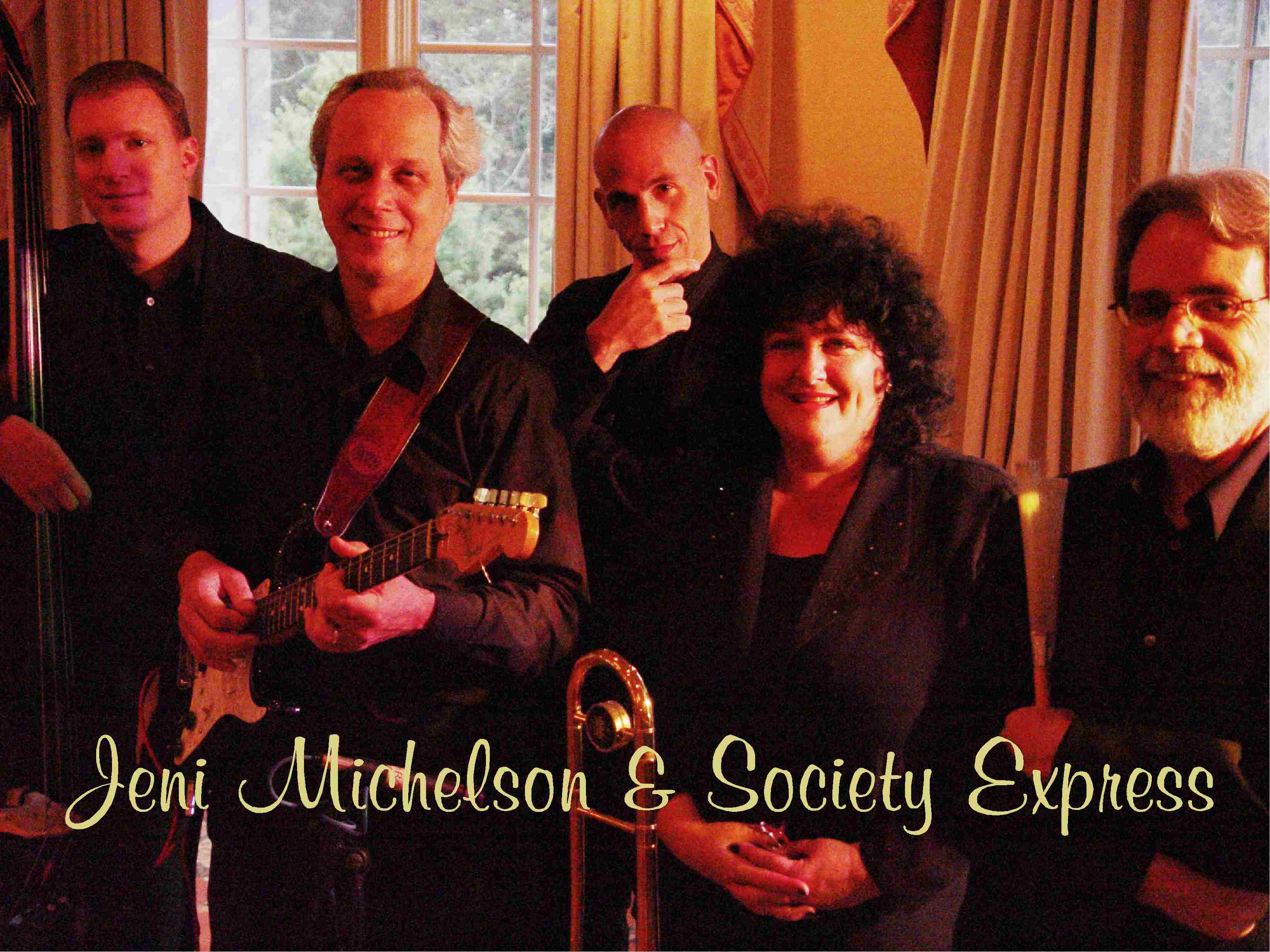 The Society Express Band, from Atlanta, GA., is an amazing, hip Little Big Band that plays a huge repertoire of songs. Voted 2006 & 2007 Top 150 Hottest Bands in the USA by Modern Bride Magazine, this fabulous group can play swing, Motown, classic rock & funk to salsa, pop, beach, blues and more. Together for over 16 years, Society Express sets the party on fire with the Top 40 dance hits that are guaranteed to dazzle the masses.
Band leader, Jeni Michelson captivates audiences with her exquisite vocals and powerhouse beltings. The Society Express Band delivers the passion, energy, funk, swing and groove that will have your guests raving for years!
"You can tell that we have a great time onstage, because it is completely infectious. And while we're rockin the house, we're also takin care of business, by skillfully managing the flow and pacing that take a successful event over the top."
Flexible in size, The Society Express Band consists of a core group of 5 band members who all sing and play more than one instrument. You'll enjoy sax, stand up acoustic double bass & electric bass, guitar, keys, trumpet, trombone, drums and you'll be thrilled with all the variety and lush harmonies of their male and female vocals!
With a staff of over 15 musicians, they can easily add additional players to create the exact sound you are looking for or they can play as a smaller four piece group, trio or duo. We can also accommodate Jewish or Christian ceremonies with trumpet, keyboard, flute, guitar or piano.
Bring us your dreams and we'll set them to music!


TESTIMONIALS
The band was excellent! They played as requested seventies and eighties music. The dance floor was full, and more important, they were just loud enough not to interfere with participant conversations. Great job!
Joe Dunay, Groom, Country Club of The South, June 1, 2019
---
"Hi Rich, We were so pleased with The Society Express Band! They were wonderful and most certainly helped to make the evening special.
Their music was perfect for the crowd, and definitely encouraged people to dance. As someone indicated, we think it was because of the band this group stayed as late as they did. (They are retiree age and tend to leave after dinner.)
Most importantly, we received numerous compliments on the band, which of course made us feel delighted our guests were having such a good time.
I have already given your name out today as a referral for this band.
Thank you for the ease in which you made this happen and most importantly, for the good recommendation! Have a great evening.
Helen:
—————————————————————————————————————–
"Everything was great!!
Everyone seemed to have lots of fun which was our goal!
We had fun too!
Katy Ellis"
Katy Ellis, Bride, Saint Ives Country Club – May 24, 2014
——————————————————————————————————————
I just wanted to let you know again what a fabulous job that you and the band did for our wedding/reception. After we got back from our honeymoon, our friends and family couldn't wait to relive the moments from the wedding/reception with the wedding video, and all just raved about how wonderful our band was, and how much fun they had… thank you again for a terrific night.
Best Regards, Karen Skinner (now Perry)
---
…We were ecstatic with your performance. The wedding was so much fun. Our guests told us that our wedding was the most fun they had in a long time…Thanks again.
Ronnie Kaplan
---
I feel so much better now that I have made a decision. I know it is not convenient for you all to have people come to listen but it made all the difference in the world, so thank you again. The video and CD were great but ya'll are superb when you play live. I'm sure you know that SMILE!! Have a safe trip and we'll touch base when you get back.
Jessica
---
Oh my goodness, I was beyond happy, beyond thrilled with your band.  I have to admit, I am actually a little sad and blue that it is all over.  I had so much fun planning and anticipating it, and now it is over.  But it was beautiful, and so touching that I really can't allow myself to be sad.
The actual reception I somewhat feel like I was floating through it.  Just with everyone tugging at you and talking. So I so wish that I could just relive it one more time.  We ended up not using a videographer, and that is the one big mistake I feel I made.
But walking into the reception when you announced and for the first time "Mr. and Mrs. Twomey" was probably my very favorite moment of the whole night.  Honest to God.  The ballroom looked so gorgeous with all the candle light, I liked the flowers and then you and your band looked so impressive and so classy sitting across the whole back room.  I was SO IMPRESSED!  Yall did a spectacular job.  Your voice was so rich and so warm during all the songs.  The band sounded great on everything.  We just loved, loved, loved it all.  I think you played a song for my uncle Pete called "Teenage Wedding".  That was a huge hit with him and my mom's family.  So very cool of yall to do that. I can't even remember all the songs that were played.  Which I wish like hell I could.  Again with that "floating" thing, I feel like there are some things I missed.  The surprise "Oh When the Saints Go Marchin In" was such a fun surprise.  What a fun memory to have forever.  The Louisiana folks there just jumped right in to do the 2nd line dance, as it is called.  We had a blast doing that. Thank you for everything!  What a privilege it was to work with you.  I will have the very best memories of the whole experience.  I will gladly recommend your band to anyone I know.  I can only hope that life continues to bless and reward you for all your hard work.  You deserve it, lady!!!
Fondly, Amy Bohl
---
I would like to take a minute to rave about Society Express. They did a great job at our wedding reception Saturday night. They were excellent!! I had always wanted a recption with a Big Band flavo and they excuted it perfectly. Everyone has commented about how great the miusic was. They played slower songs during dinner and fast fun songs for dancing all from similar eras.
I am very happy with my night. I only wish I had more time to dance.
Amy Blankenship Moog
---
just wanted to drop you a note to tell you how pleased we were with your band. You were GREAT! Our guests are still talking about your music and how much fun they had. You were so easy to work with and you exceeded our expectations. Thank you so much. I will continue to sing your praises and recommed you.
Denise McWhorter
---
Wedding Ceremony and Reception at the Carl House: society express was phenomenal! Really went above and beyond – amazing job! Would definitely recommend. Added a lot to our event – absolutely perfect!" Nicole Patterson – bride
---
Wedding Reception-Cherokee Town Club-Buckhead
:  "We love working with Jeni!  She and Society XP's drummer did a fabulous job.  The volume was perfect for both dancing and talking.  I'd recommend Jeni and Society XP to everyone!"  -D'Ann
---
Wedding Ceremony and Reception- Ritz Carlton Buckhead: "Jenny and the society express provided the perfect backdrop to a beautiful wedding celebration. Jenny and the musicians are talented professionals who clearly love their vocation of bringing music and enjoyed all at the wedding. Thank you for putting us in touch with these wonderful musicians." John DiMeglio