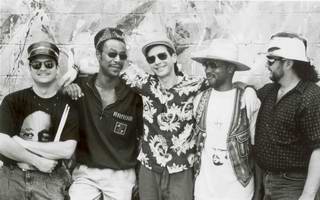 Atlanta's Reggae Band
Founded in the 1990's, this popular Atlanta based reggae/soca/calypso dance band has performed at venues all over the city as well as music festivals such as Caribia International, Fat Tuesday's Jazz Festival, the Decatur Arts Festival, Pan-Af International, and many others. They have been nominated as one of the top five reggae bands in Georgia and have traveled the region doing concert appearances.
Their music is a mixture of reggae styles with elements of rock, soul, funk, soca, calypso, and surprises! More and more audiences world-wide are turning to the dance grooves of reggae and worldbeat music – Music with meaning and positive vibrations!
So if you're looking for a small trio or something much larger, Crucial D will make your event memorable. So tell your friends to bring their dancing shoes. It's hard to resist the carefree sounds of the islands!
TRIO: Guitar, Bass & Drums. All three players do vocals too.
4-PC Add Vocals & Keyboards
5-PC Multi Percussion
SOUND SAMPLES