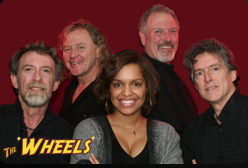 The Wheels are a four piece band that features superb three part harmony arrangements and talented musicianship, giving their fun and energetic performances the sound of a much larger group. The Wheels have been on the bill with James Brown, Carlos Santana, Kathy Matea, Al Green, Spyro Gyra, The New York Voices, The Atlanta Symphony Orchestra and have served as the backup band for Percy Sledge.
The Wheels playlist consists of jazz standards, dance music, Motown, blues, soul, classic rock and roll ! They will also perform unplugged acoustic upon request. A big show in a small package that's flexible, fun and affordable! You get great mileage with "The Wheels". Have them tailor a performance for your next event.
SOUND SAMPLES
TESTIMONIALS
"The Wheels were a great part of a fabulous wedding reception – they were a class act, had fun, were very receptive to our requests, and made it a fun evening for everyone. They were facilitator of a groove, not trying to be the center of attention. We all really appreciated that. We love their versatility with guitar, horns, and vocals. Their willingness to let me sing a few songs was a blessing as well. Thanks Paul and Rich for your roles in making this just what we wanted in LIVE entertainment."
Bobby Scott, Father of the Bride, Miller – Ward Alumni House October 10, 2015
—————————————————————————————————————————
"Rich, Thank you so much for setting us up with such an amazing band (The Wheels). We had a fun, beautiful time at our reception and the band made it so memorable! Thank you for your kindness and generosity! All our love, Brandon and Jessica Thompson"
Bride and Groom, Ward Alumni House October 10, 2015
—————————————————————————————————————————
Excellent!! – Great Voices!!
John and Trudy White, Son's October 3, 2015 Wedding Reception at Falcon Field Hanger, Peachtree City GA.
———————————————————————————————————————————
I just wanted to let you know again what a fabulous job that you and the band did for our wedding/reception. After we got back from our honeymoon, our friends and family couldn't wait to relive the moments from the wedding/reception with the wedding video, and all just raved about how wonderful our band was, and how much fun they had… thank you again for a terrific night.
Best Regards, Karen Skinner (now Perry)
---
…We were ecstatic with your performance. The wedding was so much fun. Our guests told us that our wedding was the most fun they had in a long time…Thanks again.
Ronnie Kaplan
———————————————————————————————————–
"The Wheels were outstanding and hope to use them again. Not only was the music great, but when we had a little rain, their attitude was just as impressive! They kept the party going and everyone engaged in a great time!!
Loved working with Axtell Productions to!! Great experience all around!"
Anna Collins, Father's 80th Birthday Party, March 21, 2015
——————————————————————————————————————————————
I feel so much better now that I have made a decision. I know it is not convenient for you all to have people come to listen but it made all the difference in the world, so thank you again. The video and CD were great but ya'll are superb when you play live. I'm sure you know that SMILE!! Have a safe trip and we'll touch base when you get back.
Jessica
---
Oh my goodness, I was beyond happy, beyond thrilled with your band.  I have to admit, I am actually a little sad and blue that it is all over.  I had so much fun planning and anticipating it, and now it is over.  But it was beautiful, and so touching that I really can't allow myself to be sad.
The actual reception I somewhat feel like I was floating through it.  Just with everyone tugging at you and talking. So I so wish that I could just relive it one more time.  We ended up not using a videographer, and that is the one big mistake I feel I made.
But walking into the reception when you announced and for the first time "Mr. and Mrs. Twomey" was probably my very favorite moment of the whole night.  Honest to God.  The ballroom looked so gorgeous with all the candle light, I liked the flowers and then you and your band looked so impressive and so classy sitting across the whole back room.  I was SO IMPRESSED!  Yall did a spectacular job.  Your voice was so rich and so warm during all the songs.  The band sounded great on everything.  We just loved, loved, loved it all.  I think you played a song for my uncle Pete called "Teenage Wedding".  That was a huge hit with him and my mom's family.  So very cool of yall to do that. I can't even remember all the songs that were played.  Which I wish like hell I could.  Again with that "floating" thing, I feel like there are some things I missed.  The surprise "Oh When the Saints Go Marchin In" was such a fun surprise.  What a fun memory to have forever.  The Louisiana folks there just jumped right in to do the 2nd line dance, as it is called.  We had a blast doing that. Thank you for everything!  What a privilege it was to work with you.  I will have the very best memories of the whole experience.  I will gladly recommend your band to anyone I know.  I can only hope that life continues to bless and reward you for all your hard work.  You deserve it, lady!!!
Fondly, Amy Bohl
---
I would like to take a minute to rave about Society Express. They did a great job at our wedding reception Saturday night. They were excellent!! I had always wanted a recption with a Big Band flavo and they excuted it perfectly. Everyone has commented about how great the miusic was. They played slower songs during dinner and fast fun songs for dancing all from similar eras.
I am very happy with my night. I only wish I had more time to dance.
Amy Blankenship Moog
---
just wanted to drop you a note to tell you how pleased we were with your band. You were GREAT! Our guests are still talking about your music and how much fun they had. You were so easy to work with and you exceeded our expectations. Thank you so much. I will continue to sing your praises and recommed you.
Denise McWhorter
---
University of Georgia Presidents Club Reception "the wheels did a great job. They arrived early, looked great, and were easy to work with. The crowd loved them. I can't wait to work with them again." Emily
---
"Thank you for The Wheels.  I got to tell you they are awesome!  They have the dance floor packed full!  Paul is so easy to work with……. they are welcome back here any time!"- Jodie Director of Catering
---
Daughtry wedding reception: "The Wheels were great! There were no problems at all."