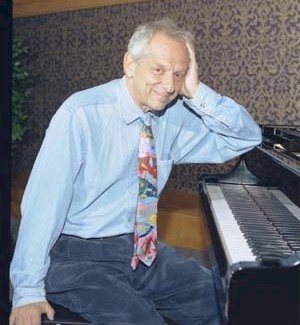 Nationally-known comedian and pianist extraordinare, Jerry Farber is #1 in Atlanta entertainment circles. He is the city's most recognized and acclaimed performer, entertaining for over two decades. Jerry stars at local and national comedy clubs, and various charities and corporate functions all over the country.
His style is inspired by the jazz and comedy greats – Dave Brubeck and Errol Garner to Woody Allen and Mark Russell. Fans have voted Jerry One of the Top Five Celebrities in Atlanta in an Atlanta Constitution / WSB Radio Poll. He was elected Entertainer of the Year by Atlanta Magazine three times in recent years and Favorite Storyteller by Cobb Magazine.
His unique style of hip piano finesse and warm-blooded humor endears him to fans. Best of all, he personalizes each performance, weaving his audience into each routine. He performs at a near exhausting pace that leaves a crowd roaring at this Georgia Football Fan / Redneck routine and mesmerized by his music.
Jerry had a successful eight year run at his own night club. On doctor's orders, he made it an non-smoking club that attracted international recognition by Business Week, The New York Times, The London Times, CNN – Sonya Live, and an entry in the Encyclopedia Britannica as the World's first non-smoking night club.
Jerry is a local TV and radio personality in his own right, much as his brother Barry, the nationally syndicated New York radio talk show host. Jerry even ran for Mayor of Atlanta twice in the tradition of Pat Paulson, finishing third twice behind none other than Andy Young and Maynard Jackson. As Farber is fond of pointing out, "A guy like me could never run for office in a country like China or Syria or Chile or …Mississippi."
Jerry devotes countless hours to charity work. He has been recognized by the American Lung Association as their Man of the Year and the Variety Club of Atlanta for Humanitarian of the Year. Business audiences are among his favorite challenges. "I am best at breaking the ice and energizing a room, and the checks are always good."
Jerry has a best selling book, Sex, Wealth and Power: How to Live Without Them. This glib, irreverent collection of Jerry's humor is available in bookstores throughout the country.
http://www.youtube.com/watch?v=dJTBuSM9ENg

TESTIMONIALS
"For the second year in a row you have successfully managed to see that everyone in our entire region left the room with aching sides from laughing so hard….thank you for the many, many laughs from each performance – we can't wait for the next one! "…
Genentech, Inc. Dunwoody, GA
---
"Way to go!! You flat nailed your show last week at Bristol Host Lions Club's annual Gold Plate Dinner. Thanks for putting on such a great show. Everybody thoroughly enjoyed your performance. Several people told me that their faces were hurting from laughing so hard."
Bristol Host Lions Club. Tennessee-Virginia
---
"First let me thank you for the outstanding presentation you made to our National Sales Meeting Thursday evening, August 13. Jerry, I was expecting you to be great and wonderfully funny. You have exceeded even those expectations. You made all of us who were hosting the event look very good. Most importantly, you gave everyone there the gift of laughter and that is a wonderful gift and very precious."
Warren Featherbone Company, Gainesville, Georgia.
---
"Your performance at our Department Meeting at Gold Creek was outstanding. The comments from our survey gave you high ratings and more than one suggested a second performance after dinner would have been even better."
Coca-Cola USA, Technical Services Department
---
"I have had nothing but rave reviews regarding both performances for Floyd College's annual secretaries day luncheon and again for the comedy theater Friday evening. Both shows were outstanding!!!"
Floyd College, Rome Georgia
---
"Thank you very much for your wonderful performance at our recent holiday luncheon! Everyone enjoyed it immensely. I have heard nothing but rave reviews and laughter in the hallways as the employees repeat their favorite jokes and impersonations."
Cox Enterprises, Inc. Atlanta, Georgia
---
"Smooth as silk – kept everyone laughing all the time".
" Excellent entertainer – the best we've had at any conference in years."
"Great sense of subtle – and some not so subtle humor – Thank you!".
"I rarely crack a smile with entertainers – Jerry had me laughing aloud for 45 minutes!"
… "These were just a few of the comments made regarding your performance at our Fall Life Production Celebration in Asheville…. When people laugh, they feel good – when people feel good, they are motivated to return to 'the battle' with enthusiasm and joy. Jerry, our people left filled with motivation! Thank you so much for spending time with us. Your presence added great value to our conference. We are grateful for your time – your talent – and your sense of fun!"
Nationwide Insurance – NC Sales Technical Consultant
---
Corporate Dinner-Southern Sportsman Lodge-Montgomery:  "We had a great function and Jerry Farber was a large part of it.  Hew was really funny!  Thank you!"  -Debbie