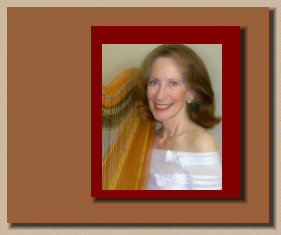 Harp music is the best way to surprise and delight the guests at your Atlanta wedding, reception, or dinner. After reviewing her photos, audio clips, and videos, you will see that harpist Brenda Street offers an impressive presentation that will help you create the perfect ambiance for your special occasion.
In addition to having played for countless private events, she has fulfilled longterm engagements in leading hotels and restaurants in both the United States and in Switzerland, most notably "The Abbey Restaurant" in Atlanta, GA; "The Tobacco Company Restaurant" in Richmond, VA; "The Hotel Métropole" in Geneva, Switzerland; "The Hotel Mirador" in Mont-Pèlerin, Switzerland; "The Hotel Trois Couronnes" in Vevey, Switzerland, and "The Palace Hotel" in Gstaad, Switzerland.
Training Background: Beginning at age eleven in her native Mississippi, Brenda studied piano seven years with Curtis Institute graduate Sara E. McAllister. She later studied harp six years with Judith Beattie of the Atlanta Symphony Orchestra, followed by one year of jazz theory with Atlanta musician Ted Howe, former instructor at the Berklee School of Music. She holds a Bachelor's Degree in Education from Millsaps College and a Master's Degree from Vanderbilt University's Peabody College of Education.
Professional Affiliations: The American Harp Society, The Georgia Chapter of the American Harp Society, and Chamber Music America.
Brenda is the consummate professional, with client satisfaction her ultimate goal.
TESTIMONIALS
Brenda played beautiful harp music for a sort of "surprise" luncheon we hosted. She is a lovely, talented lady, and everyone there heaped compliments on her music and her gorgeous harp. We will certainly call on Brenda for future events. Highly recommended!
— Review by Elizabeth W.
Brenda plated at our wedding ceremony and was absolutely wonderful! My mom said her favorite part of our wedding was the beautiful harp music. She said she would have happily sat in the church for hours if Brenda would have kept playing. Brenda's song selection is diverse and we developed the perfect playlist for our Celtic garden wedding. She also gave us a discount just for our ceremony being on a Monday! Truly superb, would hire again in a heartbeat if she lived close to us. Of all of the harpists that I looked at (believe me, a lot) she was by far the best, most talented and most reasonably priced. (And such a sweet lady! Even let us use the harp for photos.)
— Review by Ayla T.
Brenda played the most beautiful music for my wedding 2 years ago. I'm sorry it has taken me so long to write this review as I am the worst procrastinator. It was horrible weather and we had to change venues last minute and she was so sweet and accomodating! I will forever be thankful for her whenever I think about my wedding day. Thank you Brenda!
— Review by Reena P.
Brenda was amazing! She was punctual and played beautiful songs on my wedding day! Thank you so much Brenda for everything! I would highly recommend her for your events! Aline + Mihai
— Review by Aline M.
Brenda Street was wonderful!!! She performed beautifully before, during and following the ceremony. She was so friendly and a joy to have at the ceremony. She is so pretty and she looked so pretty with her beautiful harp at the ceremony. She is a person you would like to have as a friend. I can't say enough nice things about her and her music.
— Review by Patricia D