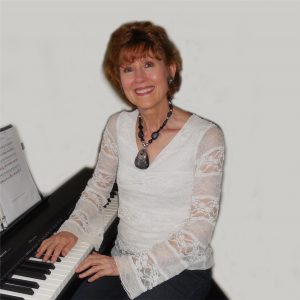 Solo Pianist
Atlanta based pianist/composer/recording artist Beth Michaels has enchanted public and private gatherings for over twenty years with her broad and varied musical repertoire. Adding just the right blend of talent and elegance to any affair, she has become a noteworthy entertainment choice for many of Atlanta's finest social and intimate occasions.
Beth has performed for such notables as Ted Turner, former Atlanta Mayor Andrew Young and President of Hyatt Hotels Corporation, Darryl Hartley-Leonard.  She has created musical ambiance in many Atlanta locales, from the prestigious Fox Theatre's Egyptian Ballroom to the High Museum of Art.
Beth's writing credits include video music for well-known science fiction author Piers Anthony, commercials for BMW, the Weather Channel and Delta Airline's boarding music heard worldwide.
"My goal with my performance is to deliver a dose of creativity, playfulness and joy. Not too much serious music! After all, I grew up playing "Chopsticks" and "Heart and Soul" when my mother thought I was practicing "Moonlight Sonata." Now that I think about it, I'm sure she could tell the difference…
And so I say, let's get silly. Let's remember the simple times. Let's forget about overdue Visa bills and dirty ovens. Time to laugh. And I like it when a listener comes up after a program and says: 'Gosh, I could start playing the piano, even at my age.' Or 'Maybe I should finally take those art lessons.' And I say, 'Yes, you should!"
Beth Michaels
 Her clients include: Coca-Cola, Omni International, Wieuca Road Baptist Church, High Museum of Art, AA Synagogue, Possible Woman Foundation, The Georgia Aquarium

  Ms. Michaels' has six CDs to her credit, has been heard on Delta Airlines and The Weather Channel and has created musical ambience for the Ritz Carlton and the Fox Theatre.

  Supportive technical equipment may be provided by agreement.

 Perfect for special events: luncheons, banquets and private gatherings.
SOUND SAMPLES


TESTIMONIALS
Rich, We enjoyed our company's holiday party last Friday with Beth Michaels as our pianist.  Beth's holiday music added the perfect ambience to the festive occasion.  Her music was just right in terms of sound level since she played during our stand-up reception portion as well as the seated lunch part.   Everyone seemed to be able to converse comfortably over the music.  Beth was punctual and had everything set up early and she didn't mind playing a bit longer since the lunch ran behind.  Beth was easy to work with and we enjoyed her musical talents. I appreciated having the opportunity to work with you since our 2018 party…you are easy to communicate with (you are very responsive) and have the process set up efficiently. I am sure that my office will be in touch with you next fall to set up someone for their 2022 event.  Happy Holidays to you and wishing you continued success in the entertainment industry. Kindly, Debbie, Company Christmas Party, Dunwoody Country Club
—————————————————————————————————-
"It is always a joy to hear Beth play. We had several specific requests for her this year which speaks volumes about her performance and quality. Thank you Axtell Entertainment and thank you Beth!"
Merry Ward, Company Holiday Party, Capital City Club Atlanta
—————————————————————————————————–
The musical program Beth presented at our luncheon set the perfect mood. It was fun and entertaining. She's one in a million!"
Marian Massie, Clinical Hypnotherapist/ Success Coach, Alpharetta
---
"Beth Michaels presents a refreshingly different and delightful program. She's an incredible pianist and knows how to connect with her audience. We were lucky to have her."
Mark Satterfield, CEO, Gentle Rain Marketing, Atlanta
---
"You are so talented, so joyful, so funny, so smart. Thanks for sharing your music and gifts with us."
Jane Riley, Power Plays Seminars, Roswell, Georgia
---