Duo to Quintet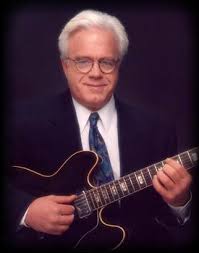 Since his arrival in the fall of 1996 to Atlanta, Mike Kelly has become one of the most sought after straight-ahead guitarists in the area. Originally from Rochester, New York, he subsequently resided in New York City where he performed at some of Manhattan's more prestigious jazz venues including: Condon's, Birdland, The Village Gate, Fat Tuesdays and Showman's Lounge. He has appeared with Charles Davis, Al Grey, Della Reese, Richie Vitale, Junior Cook, Joe Romano, and Ralph Lalama.
Serving his "road" apprenticeship with ledgendary organist Bill Doggett, guitarist Kelly continues to appear at numerous jazz festivals in the U.S. as both leader and sideman including the Montreaux-Detroit Festival and the Atlanta Jazz Festival where he has led his quartet regularly since 1997. In 1996, he performed for the John Coltrane Cultural Society in Philadelphia with bassist Larry Ridley. Under the sponsorship of the Bosphorus Cymbal Co. and Filament Records, Kelly appeared with drummer Phillip Smith's Jazz Consortium during the 1999 NAMM show in Nashville.
In addition to performing throughout the Atlanta area and the southeast, Kelly is active in the recording studio appearing on Phillip Smith's latest release Jazz Consortium (Filament Records), Francine Reed's Shades of Blue (Platinum Records) and Dennis Caiazza's Jump, Jive and Wail (Savoy Records).
His first formal studies were with Gene Bertoncini. After earning a Master's degree from SUNY at Buffalo Kelly was awarded a Jazz study grant from the National Endowment for the Arts to study with Harry Leahey. Further studies included workshops with Joe Pass and while in NYC with Ted Dunbar and the venerable Barry Harris. Kelly is also active in the community teaching jazz guitar, jazz history and jazz theory and improvisation.
SOUND SAMPLES – Track 1: duo  |  Track 2: quartet  |  Track 3 and 4: trio
TESTIMONIALS
"Mike Kelly and his team of talented musicians were perfect for our June 4, 2016 wedding reception at The Four Seasons. All of our guests enjoyed the mood they created.
They have a full playlist with a wide range of songs. Nothing tacky or canned with this talented group! Thank you so much for your wonderful talents!
Sara Schmid Denney, Bride, The Four Seasons Atlanta, June, 4, 2016
————————————————————————————–
Mike was a consummate pro and a delight to listen to. I have him booked for TWO additional events and I am looking forward to it!
Tricia Scott – Gracious Gatherings
---
The Mike Kelly Trio was wonderful and extremely cooperative with everything. Thanks so much!
Ashley Warren – Manulife Financial
---
Just as promised, they were WONDERFUL!!
Terri Rondeau – Besser Company of Alpena, Michigan
---
We thoroughly enjoyed Mike Kelly and would definitely use them again!!
Mame Mattesom Event Location: Old Decatur Courthouse
---
I would recommend the Mike Kelly Trio to anyone. We were very pleased.
Lisa Hutchenson – Initiative
Event Location: Villa Christina
---
They were very flexible and attentive.
Celeste — Intercontinental Buckhead Luncheon
---
50th Anniversary Party: "the Mike Kelly jazz trio did exactly what we wanted – light background music. Would definitely recommend." Margaret Stent
Mike, Maggie and I would like to thank you and the band for playing at our reception. You were a huge hit and we were so impressed with your performance and professionalism. You will most certainly receive a call for our next event!
Many thanks,
Rob and Maggie Bernia
——————————————————————————————–
Mike, Sara and I thoroughly enjoyed the music you provided at our wedding at the Four Seasons hotel. We appreciate you incorporating our song selections. Everyone thought you guys looked and sounded great.
Thanks again
Greg and Sara
————————————————————————————————–
Dear Mr. Kelly, I wanted to tell you how much I enjoyed the music you played at my birthday party on Saturday…. "Sweet Caroline" was a nice touch.
Fondly,
Carolyn Jones