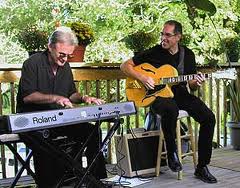 Duo to Quintet
The Dan Coy Trio is an intuitive and improvising rhythm section in pursuit of a specific aesthetic vision. It is a vision based on the respect of the swing and bebop language, but delivered with the underlying enthusiasm and exuberance of rock musicians.
In the late 1990's, the Dan Coy Trio was created and performed regularly at Smiths Olde Bar. At this time DC3 recorded their widely acclaimed live CD, "Nothing But The Truth". Later DC3 became regulars at Sambuca Jazz Cafe and also were the featured band opening shows for Herbie Hancock, Jeff Lorber, Dave Samuels and Davis Benoit.
The Dan Coy Trio maintained a regular schedule at Sambuca Jazz Cafe and Arturo's in 2000 and 2001. Meanwhile Dan made frequent appearances and recordings with artists such as Rita Graham, Sam Skelton, Moxie, Kodac Harrison, Tempest Little Big Band, Swing Factory and Sentimental Journey Orchestra.
In the later part of 2001 Dan teamed up with his current musical partner, keyboardist Mack McKibben. This dynamic duo has performed every Tu-W-Th at Violette Restaurant since. The duo of Dan and Mack also form the core of various ensembles, including Drive Time, which feature top jazz artists from the region. Dan and Mack, along with their larger ensembles, currently enjoy many bookings at regional concerts, events both private and public as well as their regular duo appearances at Violette.
SOUND SAMPLES – 1 – 13 tracks duo  |  14 – 17 tracks trio
TESTIMONIALS
Hi Rich,
They were AMAZING!! So very nice and did an incredible job. I would 10/10 recommend them and will absolutely be using them again!!
Thank you so much for all of your help, I will hopefully be in touch soon !
Best,
LAURA ULSHAFER Account Manager January 20, 2017 Corporate event
—————————————————————————————————–
"Many of the attendees enjoy the music and were very pleased overall. The gentlemen were very professional and represented Axtell well. Thank you so much for recommending this trio. We truly enjoyed them. I was certainly suggest your business to anyone looking for "GREAT" live music."
Dione Edwards, AGL Board of Directors Retirement Reception at the Woodruff Arts Ctr., August 1, 2016
————————————————————————————————————
"The Dan Coy Duo was extremely talented and professional! They took nonverbal cues to the end playing prior to announcements being made, and picked back up at the appropriate time.
Our guests were entertained in the duo enhanced our company Christmas party. Thank you Axtell Entertainment and the Dan Coy Duo!"
Robin Holland, Corporate Christmas Party at Château Élan December 14, 2015
——————————————————————————————-
"Our group truly enjoyed the band and the play list that was selected!"
Laura Haralson, Dinner Awards Event Georgian Terrace, February 10, 2015
——————————————————————————
Hi Rich, I just wanted you to know that our team really appreciated the music. The (Dan Coy Trio) band played sets that were right in the wheelhouse of our demographic, and several of the guys had commented to me personally how much they enjoyed the music.
Unfortunately, I did not get an opportunity catch the band before they left to let them know how much we enjoyed it. If you can pass it along it would be much appreciated. Thank you, Thomas
Corporate Dinner Awards banquet – The Georgian Terrace – February 11, 2015
———————————————————————————-
"The music was perfect for our venue and the kids – who were so concerned about the music – loved the (Dan Coy Trio) band! They were perfect background music and really added to the evening. The guys were great – and of course, went above and beyond by not stopping just because the clock said time to go! They made it a wonderful evening that wasn't all about the money. They enjoyed playing, it was very apparent. Completely forgot they went over time until I got your message. But we were grateful that they were such a big part of our great evening. Have recommended them (and you) two friends with a wedding next spring! Thank you!"
 Jenny Rapp, Mother of the Groom, Rehearsal Dinner, Chastain Horse Park, October 24, 2014
———————————————————————————————————————
Hi Rich – I'm very sorry for not responding sooner! Yes, I heard the band was the perfect fit for this event. They obviously keep the party going because we had to start kicking people out when it was over. We've never had people stay that long at the reception.
We will be definitely be back in touch when we come back to Atlanta!
Thank you, Kari Riley March 3, 2014 , Corporate event, Omni at CNN Center
———————————————————————————————————————-
Very enjoyable. Many positive comments from the café patrons.
-CIBA Vision
---
Superb talent and top-notch professionalism! Thank you for making our party extra-special.
-Adrea Rubin Management-New York City – Atlanta Hilton & Towers
---
I LOVED the Dan Coy Trio. They added so much to the atmosphere of the reception and we have had so many compliments from our guests.
-Katy Mercer Event Location: Private Residence
---
Thank you Axtell for the excellent recommendation! They were a wonderful accompaniment to our event.
-Sue Aldrich – Afire Event Location: Capital City Club Brookhaven
---
Wonderful job!
-Beth Martin – Turner Broadcasting
---
These gentlemen were fabulous! They created a very inviting and festive atmosphere. True entertainers!!
-Gabriel King – Astrazeneca Event Location: Atlanta Hilton & Towers
---
We received many compliments on the music and unobtrusive nature of the band.
-Erin Dill Reception Location: Four Season Atlanta
---
As always, the act chosen by Axtell was a great success and was very appropriate with the VIP event. Thanks Richard!
-Sinead Fitzpatrick – Atlanta Hilton & Towers
---
The Dan Coy Trio was accommodating and professional. They played great music and were a great addition to the party. Thanks so much!
-Kara Grizzel – Greenberg Glusker – Ritz Carlton – Atlanta
---
The Dan Coy Trio helped create a perfectly wonderful evening. They are very good and we would use them again.
-Susan Nelson – American Underground Construction Assoc. – Hyatt Regency Atlanta
---
Perfect!
-Dawn Tibbles – Country Club of the South Members Christmas Party
---
Totally professional- great musicians!
-John Bright – Ritz Carlton
---
Great Job!!
-Rose Venturin – Occidental Chemical Corp – Location: Nikolia's Roof
---
Thank you! Everything was exactly what we hoped for. We hope to call you again next year!
-Cindy Turner – Aviagen Corporation – Location: Ritz Carlton
---
The guys were great and created a wonderful atmosphere.
-Lisa Starnes -Location: Rainwater Restaurant
---
They were very good. I'd definitely recommend them!
-Diana Cowan Location: Primrose Cottage
---
Our client was very pleased with their performance at the Tour Championship Reception.
-Stacy Zigler – Ritz Carlton – Location: Atlanta History Center
---
Courteous and cooperative. Very pleased.
-Cindi Mill – Strawberry Productions – Location: Omni Hotel at CNN
---
Dan Coy was very professional and very enjoyable. Please extend my gratitude to them. I wouldn't hesitate to use them again. They were very entertaining.
– Shelia Hutchinson – Location: Cherokee Town Club
---
The Dan Coy Trio cranks out jazz standards, reveling in the naturally flattering acoustics…Coy's jazz box is at no loss for expression as he unleashes streams of notes and chords with an ease belying solid chops. His influences are there – Wes Montgomery, maybe Grant Green – but with so many diverse gigs under his belt, Coy's individual style has absorbed elements from innumerable idioms.
– Creative Loafing, February 28, 1998
---
Company Christmas Party Mandarin Oriental Hotel: "the group was thoroughly enjoyed by all of our guests! They sounded great in their selections were very appropriate." Susan George
---
ISS Facility Services reception
: "great musicians, obliged to our requests, and were timely.  Overall a great experience working with Axtell Productions"
---
Hillside Inc. 125 Year Gala Dinner: "They were courteous and did a great job!" Liz