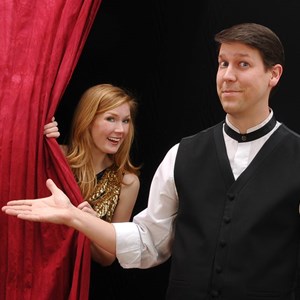 Mark Robinson is one of the hottest comedy acts in the USA. He is more than just a magician, he's also a comedian, illusionist, juggler, and master of ceremonies, making him one of the most versatile entertainers in the industry.
His hilarious stand up comedy has garnered him rave reviews at comedy clubs and an invitation to open for comedian Jeff Foxworthy. Mark Robinson's amazing illusions have won him multiple awards from the magic community and numerous bookings with Harrah's Casino. Mark Robinson's public speaking talents have been sought after by such companies as Johnson & Johnson, Coca-Cola, and AFLAC.
As a close up magician, Mark is second to none. With Mark Robinson, things constantly disappear and your company logo appears in their place! His talents are so widely recognized in the magic community, that he has been a featured performer at the prestigious Magic Castle night club in Hollywood, California. He has done two command performances for the Incredible Acrobats of Shang-Hai and done half time shows for the Golden State Warriors, Atlanta Hawks, and Los Angeles Lakers.
Over a four year contract with Six Flags, Mark Robinson performed hundreds of magic, illusion, and variety shows for over a quarter million people! He has filmed national television commercials and appeared in television shows for NBC and Warner Brothers.
In Mark's show, you will laugh and be amazed at the same time. Imagine your boss disappearing in a puff of smoke! Or a glimmering curtain whipped away to reveal your new product!
Mark Robinson's crazy on-stage personality makes him the perfect master of ceremonies (mc or emcee). His funny antics guarantee to spice up any awards ceremony or banquet. Mark has been chosen to emcee for such companies as United Way, Wachovia, and Continental Airlines. No matter how large or small your event entertainment need is, Mark's unique blend of action packed magic and comedy are sure to make your next event a total success!