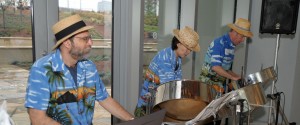 Panorama is one of the finest professional steel pan ensembles in the United States. Scott, the Panorama is one of the finest professional steel pan ensembles in the United States. Scott, the groups founder and leader is a multi-talented musician who has performing for nearly two decades. As an authority on Caribbean music, as well as a veteran at symphony, Broadway shows, experimental music, jazz and modern chamber music, he founded both the Atlanta Percussion Trio and the World Music Consort. He currently serves as Principal Percussionist/Timpanist with the Atlanta Ballet, and performs with the Atlanta Opera and the Atlanta Symphony. The group has performed all over the southeast and Midwest.
Founded in the 1980's,the band plays on the entire set of 7 types of steel drums. The steel pans are the only new acoustic musical instrument invented in the twentieth century.
The inventor and father of the modern steel pan, Trinidadian Ellie Mannette, has custom built the entire orchestra of instruments for the group and continues to applaud their work, arrangements and expertise. As well, he keeps the instruments in meticulous tune and is considered the master of tuning and rich tone in the steel pan world.
The group is known not only for the multicultural diversity, but also in the variety of Indonesian, Caribbean, Hispanic, Creole, French, African and American music which they perform.
Another trade mark of the group is their brilliant showmanship and virtuosity which combine with wonderful arrangements to produce a thrilling concert. In addition, on request Scott can also serve as narrator or emcee guiding the audience through the musical territory performed and offering educational insights as well as humor and audience involvement. They have performed for steel drum competitions in New York, Antigua and Trinidad as well.
As a marimba soloist, Scott has toured under the auspices of George and South Carolina arts commissions, performed residencies at local school and universities & festivals in Atlanta, and performed throughout the US and in Italy.
His performance degree was granted by Georgia State University, as well as a Bachelor of Music in Music Theory. Additional studies in specialized courses in timpani, marimba, jazz and ethnomusicology have take place at The Royal Conservatory of Music in Toronto, Colorado State University in Fort Collins, The Tchaikovsky Conservatory in Kiev, USSR, Manhattan School of Music in New York City , and with a host of New York
SOUND SAMPLES
TESTIMONIALS
The Steel Drums Band was wonderful! They even brought several instruments that allowed the kids at our family luau to be interactive with. Axtell, Ya'll are great!!
Gretchen Handshew – Indian Hills Country Club
---
Once again Axtell has come through. The guys were just great. Our guests were surprised and delighted by how really GOOD they were. Thanks for finding the perfect fit for our situation.
Michelle Michaud –
---
We'd definitely recommend! Thanks!
Kyla Tilton – Rich's-Macy's Special Events Office
---
Awesome! Please let Scott know how much my client and I liked him.
Sarah Wahlert – Ritz Carlton Lodge
---
Here at the Capital City Club we strive for excellence and that is exactly what we received.
Danielle Bell- Capital City Club – Downtown
---
We were very pleased and would recommend the steel drum band to anyone without reservation!
Heather Baker – Quaker Oats
---
Wonderful!
Carol McDonald – Reception Location: Trolly Barn
---
As always they were fantastic!
Debra Wilson – Capital City Club – Downtown
---
Scott was great and fit our occasion perfectly! Thank him for a great job and to Richard for the assist in getting him!!
Roseanna Stillwagon
---
It was great that they had instruments for the children to play with for our childrens' swim party.
Rebecca Perlino – Atlanta Athletic Club
---
I was VERY pleased with the steel drum band. Their performance was wonderful and my husband was so surprised. I've already recommended the band and Axtell to others! Rich and Axtell, you are wonderful. Being a "Surprise" it was very important that all our communication be in secret- and they were.
Sue Todd-
---
Everything was great! The steel drum band was a great addition to the reception. Thanks again for your help.
Dani Stillo-Pennsylvania Chapter of ACC/PA Medical Society
---
Very talented and did a great job for our welcome reception at the Atlanta Hilton and Towers.
Maryann Settlemire-American Association of Community Colleges
---
Loved it! They were so much better than the tape you sent!!
Billy Payne-First Baptist Snellville
---
They were terrific and sounded great!
Melissa Oldenbourg-Macy's at Lenox
---
We are always pleased with Panorama and Axtell. Thank You!
David Shepherd-Atlanta Athletic Club
---
The band made our open house special and I want to tell you how much we appreciate your being with us. We have received many complimentary letters from our visitors. They often mentioned the wonderful music. We couldn't have done it without you!
Debbie Williams-WSB TV